McDonald's recalls 12 million Shrek glasses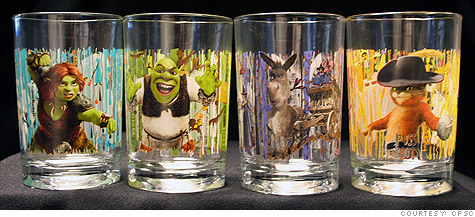 NEW YORK (CNNMoney.com) -- McDonald's is recalling 12 million drinking glasses featuring characters from the "Shrek" movie series because the paint used contains cadmium, which can pose health risks.
The fast-food company announced the Shrek glass recall Friday in conjunction with the Consumer Product Safety Commission. The 16-ounce glasses were sold for $2 each at McDonald's locations across the country in May and June to promote the new movie "Shrek Forever After 3D."
Each glass features one of four painted designs. Consumers are advised to keep the glasses away from children and to return them to McDonald's (MCD, Fortune 500) for a refund.
The manufacturer of the products is ARC International, based in Millville, N.J.
While no injuries were reported and the cadmium level in the glasses is low, long-term exposure to the metal can cause adverse health effects. Cadmium, which at high levels is a carcinogen, can cause kidney and bone damage.
A CPSC spokesman said the agency is working to establish a "highly protective" level of cadmium. These glass products were slightly above that level, he said, even though the agency has not yet established an acceptable cadmium standard.
The products being recalled don't pose a toxic risk to consumers, he added.
A statement from McDonald's said the glassware was evaluated by an independent third-party lab that is accredited by the CPSC, and the products were "in compliance" with state and federal law.
Previously released promotional glassware and Happy Meal toys are not involved in the recall, McDonald's said.
CPSC said the office of Rep. Jackie Speier, D-Calif., made it aware of the matter. A statement on Speier's website said she learned of potential issues with the glasses through an anonymous tip.
"Our children's health should not depend on the consciences of anonymous sources," Speier said in the statement. "Although McDonald's did the right thing by recalling these products, we need stronger testing standards to ensure that all children's products are proven safe before they hit the shelves."
Last month, the CPSC recalled children's jewelry made in China that was found to contain cadmium. The agency said it was expanding its investigation of the metal's use in paint for children's products.
-- CNNMoney senior writer Parija B. Kavilanz contributed to this story.