Chrysler recalls 285,000 vehicles for possible fire issue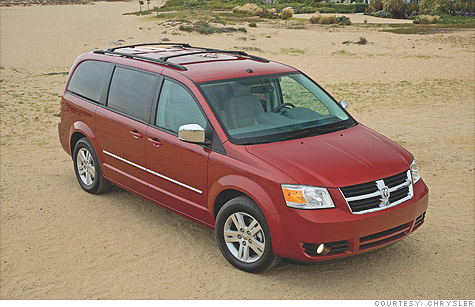 NEW YORK  (CNNMoney.com) -- Chrysler Group is recalling about 285,000 model year 2008 and 2009 Dodge Caravan and Chrysler Town & Country cars in the U.S. because of possible fire hazards.
The National Highway Safety Administration said some of the vehicles, manufactured between February and September 2007, may have been built with "an improperly routed wire harness" that could short circuit and ultimately cause a fire.
"The company is not aware of any accidents or injuries related to this issue," said a company spokesman in a statement. Chrysler said it was conducting a voluntary safety recall for the vehicles "to inspect the sliding-door wire-track assembly for damage and repair or replace as necessary."
The recall marks the second one for Chrysler this month. Last week, the automaker recalled about 25,000 Dodge Caliber and Jeep Compass cars in the U.S. because of a problem that causes the gas pedals to stick. An additional 10,000 cars were being recalled in other countries.
Earlier this year, the automaker recalled more than 300,000 model year 2005-2006 Dodge Caravan, Grand Caravan and Chrysler Town & Country vehicles over front crash sensors that could cause air bag malfunctions during a crash. That recall pertained to vehicles in 29 states and the District of Columbia.
Chrysler will notify owners of vehicles affected by the recall. Dealers will inspect and, if needed, fix the vehicles for free. Owners who think their car may be involved can call Chrysler at 1-800-853-1403 or NHTSA at 1-888-327-4236.