Chrysler recalling 365,000 Jeep Wranglers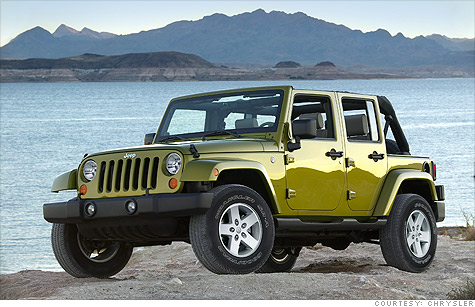 NEW YORK (CNNMoney.com) -- Chrysler Group is recalling about 365,000 Jeep Wranglers worldwide, about 290,000 of those in the United States, because they could develop brake fluid leaks.
The carmaker is recalling all model year 2006 through 2010 Wranglers, both two-door and four-door versions.
Fasteners that hold the front fender liners in place could come loose. That, in turn, could allow the fender liner to come into contact with tubes that carry hydraulic brake fluid, causing a leak that would result partial loss of braking power at one wheel.
"The company is not aware of any accidents, injuries or property damage related to this issue," Chrysler said in a statement.
The automaker plans to notify owners of affected vehicles so that they can have them brought in for repairs. To fix the problem, parts of the liner that could touch the brake lines will be removed, Chrysler said, a repair that will be performed by dealers at no cost to the customer.
Wrangler owners can contact Chrysler at 1-800-853-1403 or the National Highway Traffic Safety Administration at 1-888-327-4236.
Chrysler recently recalled about 285,000 minivans in the U.S. for an electrical wiring problem and 25,000 small cars for a problem in which the gas pedals could become stuck.