Fighting a credit denial
NEW YORK (CNNMoney.com) -- Denied credit? Even if the economy is improving, it's still hard to get a loan. Here's what you can do if you can't get the banks to open up their purse strings.
Get the letter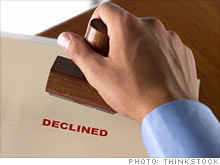 If you apply for a credit card and you're denied, you will typically receive a letter that lists the reasons why you've been denied. And if you're denied because of your credit score, you will automatically qualify to get a free copy of your credit report.
Don't delay. You must ask for your report within 60 days of receiving this notice. Keep in mind that even if you didn't get denied, you can get a free copy of your credit report at annualcreditreport.com.
If you don't understand the reason why you've been denied, or the reason is just flat out wrong -- say, for example, your credit report lists a delinquent credit account that you never had -- make sure you contact the issuer and get an explanation.
Get it fixed
Write a letter to the credit bureau and include copies of documents that support your position. The credit bureau must investigate your claim within a month.
Once a mistake on your credit report has been corrected, you can request that the revised version be sent to anyone who's recently pulled your report. But make sure you ask, because this doesn't happen automatically.
Pay down your debt
If you've recently been laid off or are going through a hardship, call your creditors and ask if you can work out a payment agreement. Maybe you can get your APR lowered so it will be easier to pay off that credit card debt.
If you have bad credit, think about opening up a secured credit card. Its works like a regular credit card except you put down a deposit that acts as your credit limit.
You may also consider getting added as an authorized user on someone else's credit but make sure that account holder pays their bills on time.
And finally be very wary about your credit card statements. Read them when you receive them. Now that credit card reform is headed our way, credit card companies may be implementing new fees, shorter grace periods and higher late fees. wary about your credit card statements.
Talkback: Have you had a credit card application denied?