Treasurys lower as risk appetite returns
NEW YORK (CNNMoney.com) -- Treasury prices fell Thursday as risk appetite returned to the markets after reassuring remarks out of Europe.
What prices are doing: The benchmark 10-year note fell 1-5/32 to 101-19/32, pushing the yield up to 3.31% on Thursday from 3.18% late Wednesday. Bond prices and yields move in opposite directions.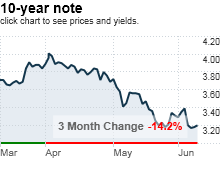 The 30-year bond dropped 2- 5/32 to 102-11/32, yielding 4.24%. The 5-year note inched 19/32 lower to 100-4/32 and yielded 2.10%, while the 2-year note was down 4/32 to 99-30/32, yielding 0.78%.
What's moving the market: Treasury prices fell, after rallying late in the previous day, as reassuring remarks out of Europe helped to boost appetite for risk on Thursday.
On Thursday European Central Bank President Jean-Claude Trichet called its interest rates "appropriate" and raised its euro-region growth forecast, helping to allay fears that the euro zone is in dire straits for now. This helped push European and U.S. stocks higher. Other risky assets such as the euro and crude oil saw a boost.
Since Treasury bonds are backed by the U.S. government, investors view them as low-risk investments that are attractive during times of economic uncertainty.
Typically, the Labor Department's report on Thursday that jobless claims fell to a 17-month low would have drove Treasury prices down as well, but analysts say this had little impact on the U.S. government bond market.
"Jobless claims came in as expected," said Peter Cardillo, chief market strategist for Avalon Partners. "The real reason (for the dip in Treasurys) is the good news coming out of Europe -- Trichet indicating that euro zone would be weaker, but not moving into negative territory."
Still, analysts say that the decline in Treasurys could be short-lived, as uncertainty about the global economic recovery looms.
Treasury yields, which move in the opposite direction of prices, have fallen nearly 15% over the past month amid signs of economic weakness in the U.S. and uncertainty in Europe.
Auction: The government has debt auctions scheduled all week, with $70 billion in notes and bonds up for sale. Earlier in the week, it sold $36 billion of 3-year notes, followed by another $21 billion in 10-year notes. Demand for the earlier offers was considered solid. Investors are awaiting a final $13 billion of 30-year bonds for sale Thursday.