Why is the Chinese government allowing workers to strike?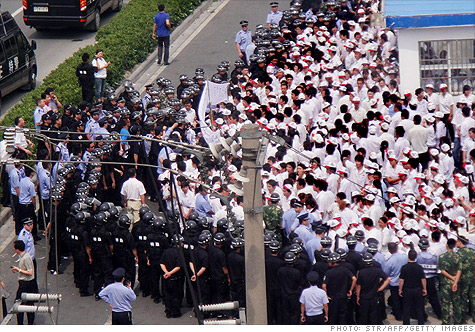 FORTUNE -- Strike one: May 17, 2010. Strike two: June 7, 2010. Workers at Chinese manufacturing plants for the Japanese automaker Honda have twice raised their fists, calling walkouts to demand higher wages. The images from these events -- photographs of uniformed Chinese workers wearing medical masks to hide their faces -- flashed across TV screens around the globe.
Chinese labor protests break out commonly enough, but typically local officials resolve them quickly, and the Chinese media keeps at arm's length. But this time around, the world is watching. So why did the Chinese government, which isn't known for looking kindly on social unrest, allow the strikes to proceed so publicly?
There are multiple reasons as to why the Chinese government might have looked the other way. For one, Honda is a Japanese company, and Chinese-Japanese relations have never been simple. Also, the numbers of strikers is tiny. The first Honda strike erupted at a single factory of roughly 1,900 workers. In the context of hundreds of millions of workers at tens of thousands of factories across China, these events are barely a blip on China's economic radar screen, albeit a very well televised one.
Perhaps both of these factors came into play, but some experts have put forward the possibility that the strikes aren't entirely unwelcome. China's government, they say, may have wanted the strikes -- or at least may well have been content with them proceeding.
Can China finally afford to be picky about providing labor?
Dr. Ching Kwon Lee, a sociologist at UCLA who specializes in Chinese labor studies, says the fact that China hasn't stepped in represents the degree to which the government prioritizes raising wages. "The government is sending a message, especially to foreign companies," says Lee. "From now on, they want to get rid of low-wage work."
Since the early 1990s, Chinese leadership has worked hard to make China attractive to foreign companies. By all measures, they've succeeded: China attracts more foreign direct investment than any other country and has the fastest-growing economy in the world. But a large part of China's extraordinary growth model is predicated on cheap labor, which isn't a long-term sustainable model.
China's youngest generation of workers, who grew up as only children under the "one-child" policy, have different attitudes towards labor than prior generations of factory workers. These young workers increasingly subscribe to the theory that anyone can be wealthy, and most don't want to return to their family's small plot of land. According to Mary Gallagher, a political scientist at the University of Michigan, young workers yearn for a more urban existence, but high property prices and low wages are clipping their desires.
The lack of union representation feeds their hopelessness. A fact often downplayed in the emerging narrative of the Honda strikes -- or coverage of the flurry of recent employee suicides at Foxconn, a Taiwanese manufacturing firm that makes computer parts for Apple (AAPL, Fortune 500) and Dell (DELL, Fortune 500) -- is that the main actors in these episodes are almost all in their twenties.
Keeping the "one-child" generation happy
For the Chinese government to maintain stability it must find a way to ensure that these young workers do not become disillusioned -- and it seems to be reckoning that allowing targeted strikes, as a catalyst to wage reform, is the way to go. The Chinese government needs to prove to its people that it won't allow foreign companies to take advantage of them.
To a degree, the strategy seems to be working, and wage demands are being met. Although some workers remain on strike at Honda, management has already conceded to a 24% pay raise. Foxconn raised salaries by as much as 66% last year. (The workers' other main demand -- unions with democratically elected leaders -- doesn't seem to be making much headway.)
Even as workers' efforts succeed, China faces a parallel challenge in convincing foreign companies that less-cheap labor isn't a reason to scatter to other markets. Beijing is walking this tightrope by arguing that higher wages at Chinese factories will in fact benefit the very employers paying the higher wages. Personal consumption in the country remains paltry by advanced-economy standards, and China's government argues, quite correctly, that the world would do well by more robust Chinese consumer spending.
A recent article by the state-run news agency Xinhua summed up the government perspective: "The cost of hiring Chinese workers who supply the world with inexpensive goods is climbing. But workers with a deeper pocket are good news for foreign companies that see them as customers."
Analysts estimate that 30% wage increases at plants supplying Honda will cost the company less than 1% of its profits. Honda also announced it will make 27% more cars for the Chinese domestic market next year. Still, there is clearly a limit to how lenient the government will be toward future strikes. While the first two Honda strikes met little response, the government quickly broke up a bout of unrest at a third Honda factory on June 9. Three strikes, it seems, and you're out.