Fears of China overheating are back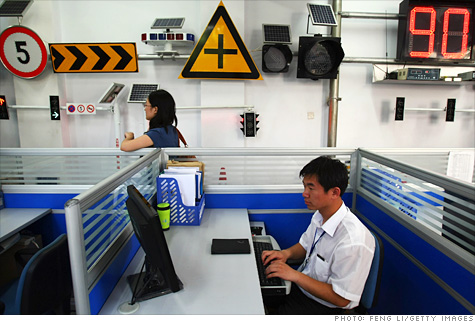 NEW YORK (CNNMoney.com) -- Forget the worries about China's economy cooling off. Overheating might be the greater concern.
China reported Thursday that its exports grew nearly 50%. Property prices in the biggest cities shot up 12% compared to a year earlier, the second biggest jump on record. Industrial production is up nearly 19% so far this year.
While a robust Chinese economy could benefit the U.S., it's also a concern since further strength may lead China to take more steps to rein in growth.
There are other signs that the Chinese economy is once again white hot, despite recent worries about a slowdown in demand for its products in Europe and the United States.
The Chinese government reported Friday that consumer prices jumped 3.1% in May compared to a year ago, and that spending on consumer soared 19% on that basis.
But one of the most significant is a series of strikes and labor agreements in recent days granting large pay increases to Chinese workers.
After labor stoppages shut down some of the operations of Honda Motor (HMC) in China, workers got wage increases of between 24% and 32%. Foxconn Technology, which makes products for Apple (AAPL, Fortune 500), Dell (DELL, Fortune 500), Hewlett Packard (HPQ, Fortune 500) and Sony (SNE) on a contract basis, has doubled the wages of its estimated 800,000 workers in China.
Wage increases are spreading beyond these plants. Some provincial governments are raising minimum wages by as much as 16% in order to attract skilled workers.
Nicholas Lardy, economist and China specialist at the Peterson Institute for International Economics, said the increases are nothing new. Wages have been rising at least 15% a year for the last decade in China, although off a very low base.
But Lardy predicted more wage increases ahead. For Chinese exporters, especially manufacturers of electronics, labor costs are only a small part of their costs. So they can afford to raise wages without losing production to even lower-wage countries like Vietnam.
If wages continue to go up, that could eventually cause higher prices for some Chinese exports, as well as create inflation pressures in China. That could lead to additional wage hikes, creating an inflationary cycle that could have an impact on the price of goods across the globe.
Treasury Secretary Tim Geithner testified before a Senate committee Thursday that the U.S. believes rising Chinese wages will be a plus for U.S. jobs, however.
"China has to be a key part of any strategy to increase U.S. exports and jobs," Geithner said. "Over time Chinese households will be able to earn more and buy more, including American goods and services."
But Lardy said U.S. exports to China still make up a relatively small percentage of consumer purchases there. Most U.S. multinational corporations trying to reach Chinese consumers are producing the goods in China. Chinese imports are still dominated mostly by capital goods or industrial commodities.
In addition to spending more, better-paid Chinese workers are likely to invest more as well, which could feed into asset bubbles there.
Rates on savings accounts in China are well below 1%. That has driven many people to invest in real estate to try to get better returns on those savings.
John Makin, a China expert and principal at Caxton Associates, a hedge fund, said the overall Chinese economy isn't in danger of overheating even with the large wage hikes, but that the housing market is at risk.
"I think the overheating pressure has been concentrated in the real estate sector. They're making people very nervous," he said.