Who is Nalco?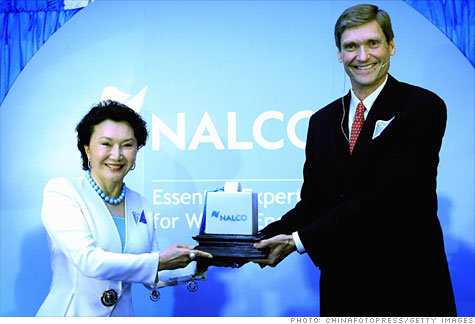 FORTUNE -- You probably hadn't heard of Nalco (NLC) before the company, on BP's orders, unleashed over a million gallons of oil dispersant in response to the explosion and subsequent environmental disaster in the Gulf of Mexico that was Transocean's (RIG) Deepwater Horizon* rig. But Nalco's links to the oil industry and its dispersant of choice, Corexit, are under the public microscope. Weirdly, the exposure could end up as a positive for the company.
Nalco is a chemical company that focuses on water treatment and processing. In 2009, Nalco reported that it held 33% of the market share for energy services-chemicals and technology that can help oil, gas and other companies save money on operations, which is a $4.3 billion global market. Less than one percent of Nalco's profits typically come from selling dispersants. BP shoulder-tapped Nalco to supply Corexit for the clean-up effort, and planes were dumping the stuff into the gulf only a couple days after the spill.
"Nalco was really the only company who could help this issue on short notice," says John Quealy, a research analyst at Canaccord Adams. The company immediately prioritized production of Corexit at factories in Sugarland, Texas and Garyville, Louisiana. So far, Nalco has estimated that it will probably sell $40 million worth of Corexit, up from the roughly $2 million in typical annual sales of the product.
Just because it wasn't expecting the call from BP (BP) doesn't mean Nalco isn't interested in working with oil companies. In their 2010 first quarter earnings call, Nalco's CEO Erik Fyrwald-a chemical engineer, formerly the vice president of the agriculture and nutrition division at DuPont-said that Nalco could capitalize on the fact that BP and other companies were looking to drill in Iraq, for which BP had recently won a contract.
Nalco also has connections to Exxon (XOM, Fortune 500). It created a joint venture company named Nalco/Exxon Energy Chemicals with the oil giant in 1994 which it later assumed control of. Daniel S. Sanders, previously the president of ExxonMobil Chemical Company, is now on Nalco's board of directors. When the Exxon Valdez spilled in 1989 off the Alaskan coast in Prince William Sound, Exxon treated the crude with an older version of Corexit.
"Nalco is one of the world's largest providers of emulsifiers and other chemicals to help process oil," says Quealy. When there's a spill, their products are on the scene. Oil companies "can't help but have a relationship there."
Was Corexit correct?
But BP has made so many mistakes; that scientists and members of congress have questioned whether choosing Nalco was another. Especially since there are EPA-approved products on the market that are supposedly more effective than Corexit, like Dispersit, Sea Brat #4 and Saf-ron Gold.
The BP response team has used two different versions, Corexit 9527 and Corexit 9500. The former is an acute health hazard, according to the EPA. It's an eye and skin irritant that could also harm the red blood cells, kidney and liver. Nalco says it's been deploying only Corexit 9500 since late April.
No one wants to put so much dispersant in the ocean, says Quealy, but "I don't think anyone expected this to be such a huge spill."
Dispersants might not be the best way to clean. They don't get rid of oil, they dissolve it into smaller particles that sink to lower depths in the ocean, to be broken down by microorganisms. Studies have shown that the dissolved oil and the dispersant could harm marine life. Animals in the gulf already have to contend with at least two massive plumes of oil trailing from the spill, over 3,000 feet underwater.
Dispersants are part of the cleanup effort because they remove ugly slicks from the water surface. They prevent the oil from reaching the shore and coating terrestrial wildlife and birds. The EPA's Lisa Jackson said in a press conference recently that she was reluctant to remove dispersants from BP's tool kit. On June 4, the Associated Press reported that a panel of 50 experts ruled that the dispersants were helping the cleanup effort.
Nalco jumped in to help a customer in a tight spot, says Quealy, but it doesn't focus on manufacturing dispersants. "It really isn't a core piece of their business. It's sort of a first aid product like that they've always had and they've never really used."
So what exactly is Nalco doing when it isn't cranking out chemicals to dump on an oil slick? Mostly, it's advising water, paper and energy companies how to save money on water treatment.
Would rather clean water than oil
CEO Erik Fyrwald joined the company two years ago. He looked at all the different chemicals channeled through Nalco, and thought the company would do well to focus on water, according to Wedbush Morgan analyst David Rose. Nalco has since bought smaller companies, such as Crossbow, to provide more hardware and water treatment services. Because of the focus on water treatment, a group of Berkshire Hathaway's (BRKB) subsidiaries, led by Warren Buffett, bought 8.7 million shares of Nalco in 2009.
The company has recently boosted sales of a new product that helps monitor chemicals used to treat water. Both analysts are excited about it. Sales look good for the device, called 3-D Trasar. Nalco has sold 12,000 units worldwide, 800 of those were in the first quarter of 2010. Nalco also increased sales in general to paper companies by 8%, mostly due to new businesses cropping up in China.
They seem to be chugging along, but will the press surrounding the oil spill spook investors?
The exposure could be good, says Rose, and it would benefit Nalco the most, "if it can garner more visibility as a water services company." That, after all, is what Fyrwald set Nalco out to do. But like a lot of things in the gulf right now, those plans are at least partially waylaid by having to cope with 25,000-30,000 barrels of oil spill, per day, until that relief well is drilled.
*An earlier version of this article named a vessel not involved in the explosion. The sentence has been corrected.