What fiscal austerity looks like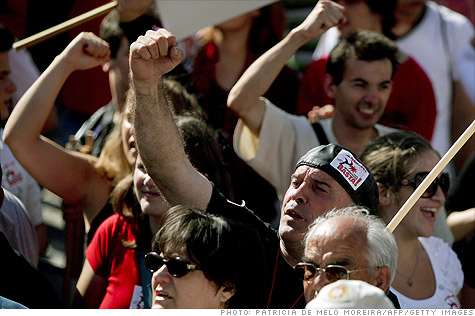 NEW YORK (CNNMoney.com) -- The weather may be getting hot, but there's a lot of freezing going on in Europe.
Greece, Italy and Spain are freezing public-sector wages. Hungary is freezing state spending. There's a lot of cutting too -- of jobs, social welfare benefits and state and local budgets.
The starting gun for the race to fiscal austerity went off when markets started pitching fits over the fiscal condition of several European countries, starting with Greece months ago.
Every nation's situation differs. But there are broad similarities in their budget-tightening measures. They zero in on public-sector wages, social benefits and retirement plans, as well as citizens' tax bills.
None of the changes will be easy -- witness the many protests that have taken place in several countries. And some say the timing is all off, that austerity measures now threaten to undo an already tepid economic recovery.
Only time will tell who's right. In the meantime, here's a rundown of the major measures announced so far, as detailed by the International Monetary Fund and published reports.
Greece: The goal for Greece is to slash its annual deficit of 13.6% of GDP today to 2.6% by 2014.
The least competitive member of the European Union, Greece also has the most generous wage and retirement systems. Wages and social benefits account for 75% of government spending and have been growing faster than productivity, according to the IMF.
So, in addition to reducing discretionary spending, Greece is planning to reduce the public sector work force, freeze wages, and eliminate the extra two months' salary traditionally paid to most public workers.
Greece will also raise its retirement ages, which vary for different groups of workers and vary depending on the time worked over one's career. Proposed increases range from five to 10 years, bringing the minimum early retirement age up to 60 for everyone.
The country will also reduce pension payments as a percentage of one's pre-retirement income, and high-income pensioners will have to pay a 10% surcharge.
On the tax side, Greeks can expect to pay higher value-added taxes and higher taxes on fuel, cigarettes and tobacco.
Hungary: Imposing fiscal restraint was key to a deal that Hungary brokered with the IMF in 2008. But a public (and many say exaggerated) comparison of the country's fiscal situation to that of Greece by the country's new prime minister jacked up pressure on the country to do more ... and fast.
So, in addition to its IMF package, the government has promised to cut money spent on public-sector wages by 15%, impose a new three-year tax on bank profits and freeze state spending.
Ireland: The Emerald Isle is on a track to reduce its annual deficit to a little over 5% by 2015, down from its current deficit of more than 12%.
Ireland has been on an austerity campaign for more than a year. Measures include tax increases, a cut in public sector pay of between 5% and 15%, cuts to social welfare benefits, reduced health services and other spending cuts.
Italy: The immediate goal for Italy is to cut 24 billion euros from its 2011-12 budget. The IMF has said "the planned consolidation is not ambitious enough."
The country has committed to imposing a three-year freeze on public sector wages, replacing only 20% of public sector workers who leave, making cuts to city and regional budgets and doing more to combat tax evasion.
It will also increase the retirement age by up to six months, but the average age will remain 61.
Portugal: The Portuguese government is aiming to reduce its annual deficit to 4.6% of GDP for 2011, down from more than 7% today.
The country plans to increase by between 1% and 2.5% its value added tax, its income tax and its profits tax. It also will implement a 5% pay cut for senior public sector staff and politicians. That's in addition to a pay freeze for civil service workers.
Spain: The Spanish government has promised to reduce its annual deficit to 6% of GDP next year, down from 9.3% this year.
Its near-term austerity plan will result in a total cut of 15 billion euros, which includes cutting civil service salaries by 5% in 2010 and freezing them for 2011.
It will only replace 10% of retiring public sector workers, except in health care, education and eldercare, according to the Economist.
France: French Prime Minister Francois Fillon said the country would ratchet down its annual deficit to 3% of GDP by 2013 from 8% today. All told, the deficit would be reduced by 100 billion euros.
Of that, 85 billion euros would come from spending cuts, closing tax loopholes and revenue generated from anticipated economic growth, according to published reports. The other 15 billion would come from the ending of temporary stimulus measures.
Additionally, French President Nicholas Sarkozy said he would cut state operating costs by 10%.
Later this week, France is expected to announce its plans to reform the country's pension system, which is projected to operate in the red for decades to come. One expected proposal will be an increase in the retirement age, which unions are expected to oppose strongly. Currently, French citizens who have logged at least 40 years in the work force generally may retire with a full pension at 60.
Germany: Although Germany is in the strongest economic position of all the Eurozone countries, Chancellor Angela Merkel has acted pre-emptively.
Merkel announced an austerity package that will push the country's deficit to below 3% by 2013, down from 5% currently and will cut 80 billion euros in spending by 2014.
Measures include cuts to welfare benefits for parents and an increase in means-testing for unemployment benefits. In addition, 10,000 jobs in the public sector will be eliminated over four years and the number of German troops will be reduced.
On the tax front, Germany will reduce tax cuts, impose a tax on nuclear fuel producers and a tax on financial transactions.
United Kingdom: Come June 22, when the new government releases its emergency budget, Brits will get a preview of just what Prime Minister David Cameron meant last week when he said efforts to bring down U.K. debt would affect everyone for years and possibly decades to come.
The U.K. owes an accumulated $1 trillion in debt, which is expected to double within 5 years. At that point annual interest payments alone would increase to $100 billion, a 67% jump from today.
Cameron said there would be cuts to the public sector, noting how it grew over the past several years while private sector employment shrank by 3.7%.
"We're going to have to get [the public sector] back in line -- and that will be much more painful than if we had kept things properly in balance all along," Cameron said.
Cameron stressed that the most vulnerable in society would be protected. And according to CNN International's Phil Black, the state-funded health service and foreign aid would be protected to a large degree.
More austerity measures will be announced in November, after what Cameron hopes will be an open public debate about how to put the country's budget on a more sustainable track for the long run.