Twitter can't kill the Fail Whale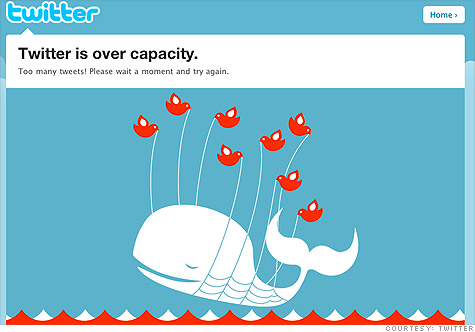 NEW YORK (CNNMoney.com) -- A week-long run of networking equipment problems and other technical issues continued plaguing Twitter Tuesday morning, as users seeking messages from their friends instead encountered the site's iconic "Fail Whale."
The timing was ironic, coming the morning after Twitter co-founder Biz Stone accepted three Webby awards on behalf of Twitter last night, including one for social networking. As the microblogging site creator gave his five-word acceptance speech in New York City -- "Every character counts. Thank you." -- Twitter's engineers back in San Francisco were struggling to make sure the site actually displayed all the characters users tweeted. Throughout the night, tweets went missing, character counts were incorrect, and many Twitter features disappeared as the engineers battled site breakdowns.
At 4:11 a.m. PT, they declared victory. Less than three hours later, the crashes started again.
Twitter is no stranger to glitches, but this month's run of them has been the worst in nearly a year. Traffic tracking site Pingdom reports nearly five hours of complete downtime so far in June, and Twitter's blog has logged serious errors every day since Wednesday.
The crashes come as Twitter is working to strengthen its infrastructure and roll out new features. On Monday, Twitter made its entry into the geolocation game with "Twitter Places," which allows users to geographically tag their tweets and integrates popular location apps like Foursquare and Gowalla.
Twitter is frank about its struggle to keep up with its explosive expansion: "We've had a lot of growing pains," co-founder Biz Stone told CNNMoney last week in an interview.
But as the site grows up, so do the expectations placed on it. "The difference between now and a year ago is no doubt what makes it harder, which is the sheer number of users," says Gizmodo writer Matt Buchanan. "It is basic infrastructure now. It's more painful when it goes away.
Some of these struggles are inevitable -- and users may continue to shrug them off.
"Whenever they update, it's a tough problem because it has to function in real time," says Charlene Li, founder of social media consultancy Altimeter Group. "When you're scaling tech like this, you reach plateaus where the tech has to scale, and it doesn't."
But eventually, even patient users get tired of battling glitches. "If this continues to happen, it's going to dampen people's enthusiasm for using it," Li said.