More families are homeless and on the streets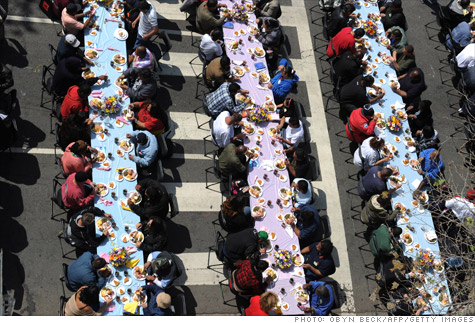 NEW YORK (CNNMoney.com) -- The Great Recession drove more families into homeless shelters in 2009, a new federal report has found.
Some 170,000 families needed shelter last year, up from 159,000 in 2008, according to an annual survey from the Department of Housing and Urban Development. There were 535,000 people in those families.
Over the course of the past year, the number of people in homeless shelters dipped slightly to 1.56 million, from 1.6 million a year earlier. This translates into one of every 200 Americans.
On a single night in January 2009, there were just over 643,000 homeless people nationwide. But, there are fewer people actually on the streets. More than 60% of people were in emergency shelters or transitional housing programs, while 37% were on the street or in other places not meant for human habitation. In 2008, some 42% were living on the streets.
"As a nation, we appear to be doing a better job sheltering those who might otherwise be living on our streets, but clearly homelessness is impacting a greater share of families with children," said HUD Secretary Shaun Donovan.
The economic downturn has most likely spurred the surge in homeless families, which numbered only 131,000 in 2007. Homelessness rises with job loss, said Mercedes Marquez, an assistant HUD secretary.
It's likely that many more homeless families are staying with friends or relatives and may wind up in shelters in the near future. Some 29.4% of adults in families who entered shelters in 2009 said they had been staying with relatives, up from 24.2% in 2007.
One reason for the overall drop in homelessness is the increased federal effort to help those chronically on the street. Nearly 111,000 long-term homeless were on the streets on a single night in January 2009, down more than 10% from a year earlier and nearly 30% from 2006.
Marquez attributes the decline to the construction of additional permanent supporting housing: Some 42,000 beds were added between 2006 and 2009.
Families need more help
Families also stayed longer in shelters in 2009, with the median number of nights rising to 36, up from 30 a year earlier. Most of these families are headed by women under the age of 31, and more than half of children in shelters are under the age of 6. But more families with two adults and more headed only by a father also fell into homelessness, indicative of the recession's toll, Marquez said.
By contrast, homeless individuals are overwhelmingly male and over age 30. More than 10% are veterans and more than 40% have a disability.
Homelessness is heavily concentrated in large coastal states, with California, New York, and Florida accounting for 39% of the single-night count in January 2009.
Nevada had the highest concentration of homeless people, with 0.85% of its population without permanent shelter. The state, which is also at the heart of the housing bust, is followed by Oregon, Hawaii, California and Washington. Meanwhile, Kansas, South Dakota, and West Virginia had the nation's lowest concentrations of homeless.
Housing officials hope that a $1.5 billion homelessness prevention program, funded by stimulus money, will assist families who need help. Also, next week the administration plans to unveil a new effort to combat homelessness.