Fastest growing counties in the U.S.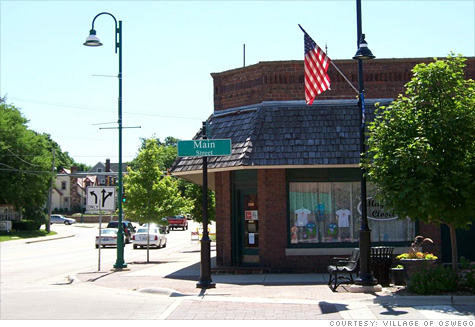 NEW YORK (CNNMoney.com) -- The fastest growing large county in the United States is not in a trendy Sun Belt state. It's in Illinois, a member in good standing of the Rust Belt.
Kendall County, Ill., a far-flung suburb of Chicago, grew nearly 100% in the last nine years, according to a recent report by the U.S. Census Bureau. The county went from a population of 54,563 on April 1, 2000, to an estimated 104,821 last July 1.
The county has been transitioning from an agricultural area to a bedroom community -- albeit one far from the main job center. "It's a wonderful place to live with excellent schools and a very low crime rate," said Anne Vickery, a member of the Kendall County Board. "But you're going to have to travel to get to Chicago."
The more than 300-square-mile county is still 60% devoted to agriculture, but when the housing boom was at its height, that farmland was disappearing rapidly and sold for as much as $75,000 an acre.
"We had a lot of rich farmers from selling off land and a lot who wished they had sold," Vickery said.
Land prices have come down in the bust to more like $12,000 an acre today.
Of course, with the boom comes the bust: The county has has the highest foreclosure rate in the state, according to RealtyTrac, the online marketer of foreclosed homes.
In May, Kendall homeowners endured 79 bank repossessions and a total of 280 foreclosure filings, according to RealtyTrac, the online marketer of foreclosed properties. That represented one of every 124 households, the highest foreclosure rate in Illinois.
The county's biggest employer is Caterpillar, but most of the highest earners work elsewhere. Many of them moved to Kendall because of lower home prices. Today, buyers can easily find newer, large homes on the market with five bedrooms and three baths, a two-car garage on a large lot for under $350,000.
"People came here because they could get more for less," said Vickery.
Since the national economy soured, the county's population growth has slowed, to 3.3% from July 1 2008 to July 1 2009, less than half its average annual growth rate of 7.5% since 2000.
Job losses have piled up, too. The official unemployment rate hit 11% in April from from 9.8% 12 months earlier. That's more than a percentage point above the national average and slightly more than that of the Chicago metro area, which stood at 10.7%.
Other fast growers
Most of the fastest growing counties are, like Kendall, relatively distant from the city centers of major metropolitan areas. These are areas where many workers were willing to move because they offered big new homes on large lots for comparatively reasonable prices.
The second fastest grower, for example, Pinal County, Ariz., where the population grew 90% between April 1, 2000, and July 1, 2009, lies about 40 miles south of Phoenix. When developers started to run short on large tracts closer to the city, they bought up acreage there.
The third fastest grower during the 2000s, Rockwall, Texas (89%), is an outer-ring Dallas suburb. Loudon County, Va. (78%), is well outside Washington D.C.'s beltway. Flagler County, Fla., (84%) is about 60 miles away from the nearest major metro area, Jacksonville.
Other fast growers include Forsyth County and Paulding County, both in Georgia; Lincoln County, S.D.; Williamson County, Texas; and Douglas County Colo.
The population increase calculations are more than an idle exercise in data collecting. Once the actual census count is completed this year, these counties will be in line for big jumps in government money, pointed out Census Bureau Director Robert Groves.
"Census numbers govern the distribution of more than $400 billion in federal funds each year and serve as the baseline for future post-census population estimates," he said.