AT&T suspends iPhone pre-orders, Apple apologizes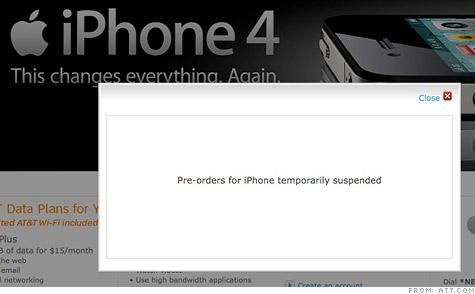 NEW YORK (CNNMoney.com) -- AT&T suspended pre-orders for Apple's new iPhone 4 on Wednesday, after a deluge of orders overwhelmed its systems.
The embattled wireless carrier said that pre-orders on Tuesday -- the first day the new smart phone went on sale -- were 10 times higher than a year before for the iPhone 3GS. Apple said it sold 600,000 iPhones Tuesday, which was the highest number of pre-orders for an iPhone in a single day.
The unexpected demand surpassed the number of phones that Apple had set aside for pre-orders. AT&T said that some customers who ordered their phones on Tuesday won't receive them on June 24, the first day they become available in stores.
"Given this unprecedented demand and our current expectations for our iPhone 4 inventory levels when the device is available June 24, we're suspending pre-ordering today in order to fulfill the orders we've already received," AT&T said in a statement.
On Tuesday, AT&T (T, Fortune 500) was unable to handle the rush of pre-orders. Online and over-the-phone ordering returned frustrating error messages and busy signals. Many early-bird customers who showed up at retail stores had their information taken down on paper, which AT&T employees entered into the system manually after the systems were back online.
Apple (AAPL, Fortune 500) apologized for customers' disappointment with the situation.
"[The number of pre-orders] was far higher than we anticipated, resulting in many order and approval system malfunctions," Apple said in a prepared statement. "Many customers were turned away or abandoned the process in frustration. We apologize to everyone who encountered difficulties, and hope that they will try again or visit an Apple or carrier store once the iPhone 4 is in stock."
AT&T said the system malfunctions were caused by the busiest online sales day in its history, with 13 million visits to the company's website.
Several of those customers complained that when they logged onto their AT&T accounts to check their eligibility for an iPhone upgrade, they found that they were logged into another users' account instead. A number of customers said they were able to view other subscribers' personal information on Tuesday.
AT&T declined multiple requests to comment on the issue. "I think you are up on everything we have said on these issues," company spokesman Mark Siegel said, referring to AT&T's prepared statement acknowledging only the "unprecedented demand" for the iPhone 4.

AT&T has not apologized for the chaotic ordering process.