Anadarko: $6 billion on the hook for BP's blowout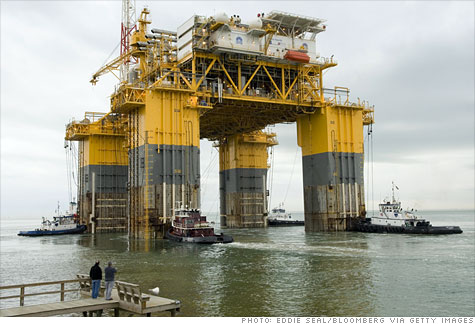 FORTUNE -- BP seems to have an oily black thumb, streaking every company it touches during the spill, which is still gushing up to 60,000 barrels of crude a day. The next victim: a little known oil and gas exploration company named Anadarko that owns 25% of the Macondo well where the Deepwater Horizon rig was drilling.
The partnership could cost them up to $6 billion dollars, according to a recent statement by Fitch Ratings. Based on that estimate, Fitch downgraded Anadarko (APC, Fortune 500) from "stable" to "negative." The $6 billion could be conservative considering many of the estimates for BP's total costs are $35 billion or higher. Anadarko has already lost $8 billion in value because of its ties to the well where the exploded Deepwater Horizon was drilling. Anadarko's plight could make other small oil companies think twice about entering similar partnerships in the future.
Anadarko signed a contract saying that it would have to pay a quarter of the costs associated with the well, unless BP (BP) is found guilty of gross negligence, even though no Anadarko employee has worked on the rig.
Will non-operating soon mean non-liable?
"I think the industry will have to change as far as how joint operating partnerships work," says David Heikkinen, analyst and managing director of Tudor Pickering Holt & Co. He thinks that the oil industry will need to seriously assess the liability of non-operating partners.
A non-operating partner pays money up front for the well, approves the drilling plans, then leaves the rest for the operator. Anadarko Petroleum Corp. was one of two non-operating investors on the Macondo well-the other was another an arm of the Japanese conglomerate Mitsui. When Anadarko signed the contract, BP had already started drilling.
"We always carefully review anybody that we partner with," says John Christiansen, manager of external communications for Anadarko. "This particular well should have been a straightforward well to drill."
But BP was trying to repair cracks in the Macondo well up to two months before the Deepwater Horizon explosion, according to reports that BP filed to the Minerals Management Service-a federal oil industry regulator. Non-operators wouldn't receive that kind of maintenance information, says Christiansen.
How Anadarko could escape
Two scenarios could bail Anadarko out of the mess. One would be that BP is accused of gross negligence, which would be tough to prove in court, said Heikkinen, and could take years of litigation to decide. The other scenario would be that the Macondo well stops gushing today, making the damages fee more manageable. Then BP would be less likely to call on everyone else to pay.
The worst-case scenario, according to Wells Fargo analyst Dave Tameron, is that the relief well that BP is drilling doesn't work. Along with continuing to pollute the gulf, that would mean that BP's liability could get astronomical. The company would be more likely to point fingers to help bear the brunt of the cost.
Of course, there's already been some preliminary finger pointing. Anadarko rents four rigs in the gulf from different companies. It's issued a force majeure to three of those companies, and kept one rig running to do non-drilling operations, mostly maintenance work.
A force majeure means that Anadarko opt out of its drilling contract due to forces outside of its control. In this case, the force outside of its control would be the drilling moratorium issued by the US government. This would enable Anadarko to pay each company a cancellation fee of $30 million to get out of the contract, which would ultimately save them money. Rigs in the Gulf don't rent cheap-they're about a million dollars a day.
One company is contesting Anadarko's force majeure: Transocean (RIG), owner of the destroyed Deepwater Horizon, but also several other rigs in the gulf. Depending on how the legal process shakes out -- and it will probably drag --Anadarko could be stuck paying rent for a rig banned from drilling.
Anadarko is still the largest independent deep-water producer in the Gulf of Mexico. It has 11 producing platforms in the Gulf, and it operates eight of those. Anadarko can still bring in oil from those platforms; it just can't drill new wells. The company had said that it still expects to pull its forecasted amount of oil in 2010 -- about 230-234 million barrels, much of that coming from producing wells in the Gulf.
"Twelve percent of the value of the company was in the Gulf before the disaster," says Tudor's Heikkinen. But if the moratorium lasts for a while, "there are plenty of other places where they can invest capital."
The company has taken some flak in the industry for having so many projects going on at once, says Tameron, but it could actually help them in a situation like this. If the moratorium continues, Anadarko doesn't have all its eggs in the Gulf basket. "That's absolutely a strength of our portfolio," says Anadarko's Christiansen.
Anadarko has projects in Brazil, Algeria and Ghana, to name a few. The one in Ghana, called the Jubilee project, should pull in 60,000 barrels a day from the area if it meets estimates. Anadarko expects to start drilling in October, and pull in revenue beginning in 2011.
Anadarko also has onshore assets, and assets in shale. It just signed a $1.4 billion deal with Mitsui, the other co-owner of the well for Marcellus Shale in Pennsylvania.
The company looks like it's covered, despite the financial hit from the loss of stocks, says Tameron. "Do I think the company's oversold? Yeah. Does it matter today or tomorrow? Probably not."
Anadarko has enough cash on hand to clear the most recent estimated costs that they'd have to pay. It had about $3.5 billion on hand as of March 31, and could borrow another $1.5 billion or so. Also, it's unlikely that BP will ask for the proposed $6 billion check at once. Whatever and whenever the litigation happens, it will probably take years, says Tameron.
The Fitch Ratings report that knocked the company mentioned that Anadarko is still investment grade. Unfortunately, part of their future is held where no company wants to be right now-in the hands of BP.