Estate tax in limbo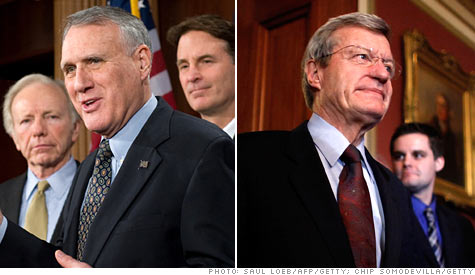 NEW YORK (CNNMoney.com) -- Estate planning attorneys may worry that their persistent headaches are a sign of something more serious. But once they remember what they do for a living, the headaches start to make perfect sense.
That's because they are operating in a kind of weird estate tax limbo. The federal estate tax was here, now it's gone for a year. It's probably coming back soon, although no one can say exactly what it will look like.
Unless Congress acts, the estate tax will be back next year and no more than $1 million of a person's estate would be exempt from it. That's well below the $3.5 million exemption in place last year. And the top estate tax rate would be 55%, up from 45% in effect last year.
Oh, and just because there is no federal estate tax this year doesn't mean heirs of someone who dies in 2010 have no federal tax liability on their inheritance. They very well may, but it can be hard to tell them in some instances what it will be because of ambiguities in the law.
So what's an estate planner to do?
"You try to do as little as possible," [[for the estate of] someone who died in 2010," said Steve Hartnett, associate director of education at the American Academy of Estate Planning Attorneys.
And when you absolutely have to do something, he said, you make your best guess and hope it turns out to be the right one when Congress gets around to clarifying the estate tax rules of the road.
One potential minefield is how to deal with the change in "step up" rules for heirs.
Under the old regime, heirs who wanted to sell inherited assets had to pay the capital gains tax on the gains accrued since the day they inherited the asset. In other words, the "cost basis" of the asset was essentially stepped up to present day. Those rules go back into effect next year.
This year, however, when heirs sell appreciated assets they will owe capital gains tax on all the gains since the deceased bought the asset. But the first $1.3 million in gains is treated as tax free. And for surviving spouses, another $3 million is as well.
Say an estate's assets with $5 million of gains are sold. Non-spousal heirs would only pay the capital gains tax on $3.7 million. A widow who is sole beneficiary would only owe tax on $700,000.
As a result of the new step-up rules, estate planners face an array of new complexities. One of them is advising clients when to sell an asset to minimize the tax bite. For instance, if the heirs of someone who dies this year don't sell an appreciated asset until 2011 or beyond, which step-up rules will they be subject to? Hartnett says how the law will be applied isn't clear.
Equally confusing is how best to cook up an estate plan for someone who is living now and plans on doing so at least until 2011.
The 'who knows?' factor
The only good news is that generally speaking relatively few taxpayers are affected by the federal estate tax itself.
At most, only an estimated 1.76% of estates would be affected in 2011 if the estate tax is resurrected with a $1 million exemption, according to a recent report by the Congressional Research Service.
Then again, every estate of someone who died this year, no matter how small, will be affected by changes to rules governing heirs' step-up in cost basis.
Optimists still hold out hope Congress will offer clarity before 2011, but the smart money says it won't come before the mid-term elections in November.
Then again, who knows?
Lawmakers shocked the death rattle out of people by actually letting the estate tax lapse this year. Soon after, there was talk that they would reinstate the estate tax retroactively. Wrong again. Now halfway through the year, few expect that will happen.
Next expectation? Lawmakers absolutely, positively will come up with a more lenient version of the federal estate tax for 2011 than the one slated for currently.
Several key senators have been trying to cut a deal for months. Negotiations have stalled on more than one occasion.
"We're almost half a year away from a tax policy that a super majority of senators say they don't support. Yet, we're stuck," Sen. Charles Grassley, R-Iowa, said earlier this week. "This time-sensitive issue has taken a back seat to everything else."
Anne Mathias, director of research at Concept Capital's Washington Research Group, thinks it's a fair bet to assume the new exemption level will fall somewhere between $3.5 million to $5 million.
But she also said if Republicans sweep the mid-term elections, and win at least 60 seats in the Senate, they may push to extend the repeal of the tax.
When Hartnett was asked what he thinks will happen with the estate tax next year, he gave the only answer he and his colleagues can give for many estate tax questions these days: "I don't know."