Wall Street reform comes down to the wire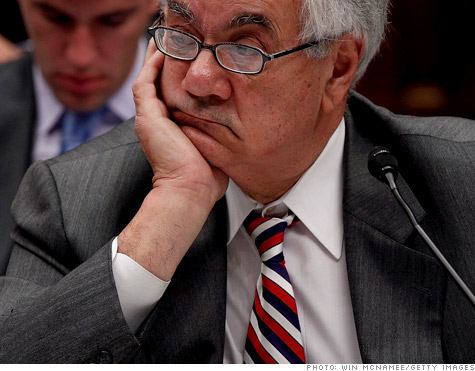 WASHINGTON (CNNMoney.com) -- With one week down and one week to go on negotiations melding the two Wall Street reform bills, lawmakers have a lot of tough decisions ahead.
House and Senate negotiators had set a goal to finish work on reconciling the bills - aimed at preventing the next financial crisis - before President Obama heads to Canada on Friday for two major summits of world leaders.
So crunch time is on. Negotiators meet again Tuesday, which only leaves them a few days. And they have yet to consider some of the more complicated and controversial issues, such as protecting consumers who buy financial products and shining a light on complex financial contracts.
Additionally, they also have to continue working on issues they broached but didn't resolve over the past week of negotiations, such as differences in creating a panel of regulators tasked with keeping an eye on risk in the financial system.
"If I were a betting man, I bet they will finish it next week (by June 26), because they really want to," said Doug Elliott, a former investment banker and Brookings Institution fellow. "When everybody knows what the potential deals are, they just have to decide whether to do them."
They've made progress settling differences such as auditing the Federal Reserve and creating new rules for hedge funds and credit rating agencies. But the top lawmakers running the talks suggested Thursday that they may not be so willing to budge on a few measures to be pounded out next week.
Bumpy road ahead
In the week to come, lawmakers will tackle more pressing differences between the bills. These include:
Volcker Rule: Named for former Fed Chairman Paul Volcker, the provision would direct regulators to create rules that would stop banks from owning hedge funds and trading for their own accounts. The House bill doesn't include the Volcker rule, but lawmakers have said they're open to the idea.
Derivatives: They'll also tackle derivatives, hammering out vast differences between the chambers on ways to ensure these complex financial contracts are more transparent. Both bills push many derivatives onto clearinghouses and exchanges that can better pinpoint the value of the securities and create firewalls between buyers and sellers.
However, the House allows more leeway for financial firms to avoid exchanges and posting collateral on such contracts, especially if they're not considered big derivatives dealers.
Another big debate will be over a Senate provision to force banks to spin off their swaps desks. In a memo, the author of the legislation - Sen. Blanche Lincoln, D-Ark. - has clarified that banks could move the operations to affiliates, which would make it less onerous to banks. But the House bill contains no similar provision.
Consumer agency: Differences on the consumer financial protection agency will also be hashed out. The Senate houses it in the Fed and the House creates a stand-alone agency. They will also decide who should get exempted from new and increased supervision, with the debate focused on auto dealers who make auto loans.
Debit cards: Expect debate on a Senate provision cracking down on swipe fees that retailers pay when customers use debit cards. The fees go to banks and network operators such as Visa and Mastercard, making up 1% to 3% of every transaction to cover the operational cost of transferring money from one account to another.
The Senate directs the Federal Reserve to make fees "reasonable and proportional" to costs. The Senate also allows retailers, ranging from Wal-Mart to mom-and-pop shops, to give price cuts to customers who pay with debit cards that carry lower transaction fees. This measure is in flux and could be watered down.
Bank capital: Lawmakers will also revisit a topic they debated Thursday: a new mandate on banking parent companies to bulk up their capital cushions with assets that can be more easily converted to cash. The Senate measure would cause all banks to have to raise a lot of money. House negotiators are concerned about the impact, especially on smaller banks, and pitched ways to weaken the measure.
Playing hardball
Sen. Christopher Dodd, D-Conn., warned that he plans to press for Senate versions of particular issues where Democrats made deals with Republicans, such as paying for the unwinding of failing financial firms. The House would tax banks to create a $150 billion fund for regulators' use. The Senate would tax banks to pay for the unwinding after a collapse.
Dodd reminded everyone that without such bipartisan deals, Democrats wouldn't have been able to even start their debate or pass a bill, due to Republicans' ability to filibuster.
"We cannot undo one of the most critical pieces of the agreement that passed 93-to-5 on the floor of the Senate," Dodd said.
But, the head of the conference, Rep. Barney Frank, D-Mass., cautioned that while he appreciated the need for the Senate to make bipartisan deals to get around a filibuster, "it's not binding on us."
"I'm a little bit perplexed as to the untouchability of bipartisan agreements joined in by people who voted no" on the final bill, Frank said.
"On the merits, we're glad to look at these things," he added.