Gold prices ease out of record territory
NEW YORK (CNNMoney.com) -- The price of gold turned lower Monday after surging to a fresh intraday record, as investors digested China's decision to allow the yuan to appreciate against the dollar.
What prices are doing: Gold for August delivery fell $17.60, or 1.4%, to settle at $1,240.70 an ounce. Earlier, prices climbed to $1,266.50, beating the record intraday high of $1,263.40 set the previous session. Gold prices also set a settlement record Friday, at $1,258.30 an ounce.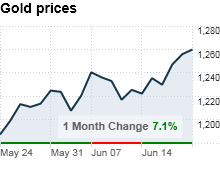 What's moving the market: Gold prices have advanced for four consecutive weeks and could remain in record territory on continued momentum.
But the precious metal's safe-haven appeal diminished Monday as China announced over the weekend that it will take steps to end the yuan's two-year peg to the dollar and allow the Chinese currency to trade more freely.
China has kept the yuan's value artificially low since the middle of 2008. But the People's Bank of China said that as the global economy continues to recover, it will increase its exchange rate's "flexibility."
That optimistic sentiment gave a boost to investor confidence and reduced some demand for the safety of gold, which is perceived as a low-risk investment and is attractive during times of economic uncertainty.
What analysts are saying: "The Chinese announcement is good, and we have been expecting it as part of a series of moves for Chinese economic activity and monetary policy for some time," said Jeffrey Christian, managing director at CPM Group. "It provides the affirmation that economic and financial policies that were established have pushed the global economy in the right direction."
While the Chinese move suggests that the economic environment isn't as bad as investors have been trading on in recent weeks, Christian said it's still fragile, and that's why gold will remain in its current trading range.
"The economy and investor sentiment don't move from black to white," he said. "They move along a spectrum, into shades of gray. Last week we were at one end of the spectrum, where things looked extremely negative, and now we're just starting to ease a bit away from that."
Christian added that gold could spike as high as $1,300 an ounce before bouncing off highs and consolidating above $1,160 through the end of the summer.
"Investors who are taking the view that the financial crisis has exposed imbalances that still need to be improved will continue to add gold to their portfolios," he said.