E-reader price war breaks out: Kindle, Nook cuts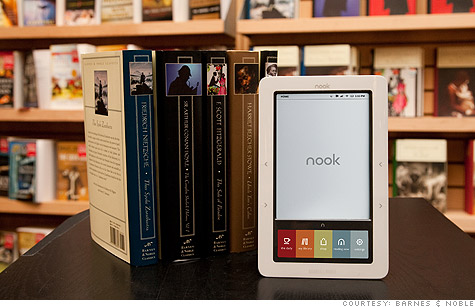 NEW YORK (CNNMoney.com) -- Take that, Kobo. As e-reader competition heats up, Barnes & Noble responded Monday by cutting the price of its flagship Nook to $199 and introducing a low-cost, Wi-Fi-only version for $149.
Just hours later, Amazon (AMZN, Fortune 500) hit back. It slashed the price of its popular Kindle to $189 -- a deep discount from the original $259.
Barnes & Noble's move sets the Nook's entry-level price level the same as the Kobo, an upstart e-reader backed by Borders. Cheaper than many competing readers, the Kobo sold out its first run and will begin shipping another wave of pre-orders next month.
But Amazon now has the cheapest 3G e-reader. With the Kindle or Nook 3G, readers can download books from almost anywhere they can reach a cell network. The Kobo and Nook Wi-Fi rely on having a wireless network available.
A recent study from IT research company Yankee Group said the $150 price point is a "sweet spot" for e-readers, at which sales should soar.
"With new tablet technology, reading-only devices have been forced into a race to the bottom," said Allen Weiner, analyst at Gartner. "We've only begun to see the price cuts."
The Nook Wi-Fi, which will begin shipping this week, looks almost identical to the 3G, except the new model's removable back cover is white instead of gray. The Wi-Fi version is 11.6 ounces, versus 12.1 ounces.
Beyond those small changes, the Wi-Fi version includes the same specs as its pricier cousin, including a 6-inch E-Ink display and 2 gigabytes of memory, which can hold 1,500 books. The Nook 3G, now $60 cheaper than its original $259 selling price, offers free Internet connectivity over a cell phone network to Barnes & Noble's e-book store.
E-reader manufacturers were banking on the easy reading ability of the E-Ink technology, which boasts a backlight-free display and reflects light like regular paper does, to make their devices must-have gadgets.
But the release of the Apple (AAPL, Fortune 500) iPad has pushed e-readers toward obsolescence, Weiner said.
"The e-readers do just one thing -- no Web surfing, no video," Weiner noted. "Are consumers willing to pay a little more, and sacrifice some reading comfort, for all that capability? Probably."
While the Kindle and Nook 3G readers have no monthly access fees, the iPad 3G's data plans start at $15 a month. But plenty of users are willing to fork that over, and the iPad features a variety of e-book applications -- including the "BN eReader," which connects to Barnes & Noble's e-book store.
Thanks to that kind of competition, the price tag of the Nook, Kindle and other reading-only devices will probably fall to $99 toward the end of 2010, Weiner said.
"The devices just didn't evolve quickly enough," Weiner said. "It's possible that this E-Ink tech has had a very short life. In the future, I can see book publishers giving them away with a bundle of e-books."
Both Qualcomm and Netherlands-based Liquid Vista are working on color E-Ink readers, Weiner said, but neither device is slated for release anytime soon.
The Nook Wi-Fi will feature a few innovative features that distinguish it from the pack, such as B&N's (BKS, Fortune 500) existing LendMe program, which lets customers share e-books with friends for 14 days.
A new software update gives both Nook 3G and Wi-Fi customers free access to AT&T (T, Fortune 500) Wi-Fi hotspots.
The new Nook is available at www.nook.com and www.bestbuy.com.