The risk of hedging overseas bets
(Money Magazine) -- The euro's collapse has been spooking financial markets of late, driving down stock prices worldwide from recent highs. But your overseas returns are probably even worse, because when you translate a foreign market's gains or losses back into dollars, you also have to take into account how the local currency is faring against the greenback.
And the euro is down 15% this year and counting. Now, you may be wondering if there's a way to stay invested overseas without riding the euro roller coaster. After all, why should your retirement suffer for the profligate ways of European bureaucrats?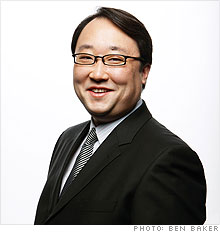 The short answer is yes, you can hedge against currency fluctuations. And if the financial services industry stays true to form and jumps on a short-term trend to drive sales, you'll soon be hearing how great it is to buy mutual funds that employ such a strategy, which involves entering contracts to sell the same amount of foreign currencies used to purchase international shares.
But just because something is doable doesn't mean you should do it. In fact, you're better off simply riding the ups and downs of lots of currencies -- which is typically how international funds work -- than putting all your bets on the dollar.
Here's why:
You get more diversification
With increasing globalization, foreign stocks no longer zig when U.S. shares zag. Currencies, however, still do, notes Morningstar fund analyst Gregg Wolper. Since 1990, the S&P 500 and a leading index of foreign shares have moved in similar fashion. But U.S. stocks and European currencies (the euro made its debut in 1999) have gone in opposite directions.
Not all foreign currencies are weakening
Yes, the euro is collapsing. But Japanese, Indian, and Canadian currencies have all gained a little ground on the U.S. buck this year. Alec Young, international equity strategist for S&P, points out that while the falling euro has hurt you, you've gotten a slight boost on your gains in emerging markets where currencies have held up better.
You can't time the currency market
Six months ago economists were arguing about whether the euro would replace the dollar as the world's store of value. Today some wonder if the euro should even exist.
Professional fund managers, alas, have shown no particular talent for timing currency moves. Longleaf Partners International, which had routinely hedged its currency bets for years, announced late last year that it would stop. Oops. Similarly, Tweedy Browne, which has long run a currency-hedged fund called Global Value, decided last October to launch an unhedged version -- just in time to see hedging regain its allure.
Bottom line: Investing in foreign stocks can be a wild ride. Sit tight, and use bonds and cash as your safety bars.
Do you have an 800-plus credit score? Or have you pulled your score up past 700 after a financial setback? If you'd like to talk about it for an upcoming issue of MONEY magazine, send your name, age, phone number and a few details about your story to imangla@moneymail.com.