Earnings estimates may still be too high
NEW YORK (CNNMoney.com) -- With one week left before the end of the second quarter, investors are getting ready for the deluge of earnings reports that will land next month.
It's clear that investors -- or at the very least traders -- are hungry for some real data to give clues about the direction of the economy. Outside of the BP (BP) saga in the Gulf, there has been precious little in the way of significant corporate news.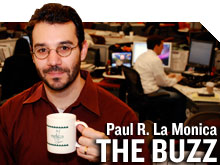 That should change soon. Some big companies have already warned that results may be hurt by the crisis in Europe.
Earlier this month, McDonald's (MCD, Fortune 500) and 3M (MMM, Fortune 500) both said that the sharp plunge in the euro may eat into profits.
Tobacco giant Philip Morris (PM, Fortune 500), which sells Marlboro and other top brands outside the United States, issued a similar warning on Wednesday.
Dave Rovelli, managing director of U.S. equities with Canaccord Genuity in New York, said he expects more companies to lower their forecasts.
"Everybody thinks that the second quarter numbers should be OK, but going forward is the dilemma," Rovelli said. "The biggest problems in Europe didn't really happen until the end of May and early June. There could be a slowdown in the second half of the year."
So far, analysts are fairly optimistic -- perhaps too optimistic.
John Butters, director of U.S. earnings research with Thomson Reuters in Boston, said that analysts currently expect profits for the S&P 500 to be up 26.9% in the second quarter. He said that estimates for the quarter -- as well as for the rest of the year and 2011 -- have dipped only slightly.
"Estimates are calling for solid growth -- particularly in 2011," Butters said. "The numbers are on the high side, but it seems that analysts are taking a wait-and-see approach."
That means investors will need to pay even more attention than usual to guidance that companies issue.
"Executives are probably going to be pragmatic, fearing the worst and hoping for the best," said Mark Luschini, chief investment strategist with Janney Montgomery Scott, an investment bank based in Philadelphia. "When we look back at estimates for 2010 and 2011, we may find those numbers are a tad ambitious."
With that in mind, some companies may find themselves being punished even if their latest results exceed expectations.
Tech giant Cisco Systems (CSCO, Fortune 500) reported earnings in May that topped forecasts by nearly 8%. But the stock tumbled 4.5% because CEO John Chambers gave a guarded outlook for the next quarter.
The same thing happened just last week with FedEx (FDX, Fortune 500). Its profits topped estimates but the stock dropped 6% after the company cut its 2010 earnings forecast.
"Cisco and FedEx had great earnings but the guidance was very light. People were worried about that," Rovelli said. "If you have a blowout quarter but you're cautious about guidance, your stock is going to get hit."
Still, there could be some cause for celebration in the next batch of corporate reports. Luschini said he's hoping that companies, especially large blue chips, will continue to highlight healthy sales from emerging markets like China, India and Brazil.
As such, Luschini said companies may be more willing to talk about plans to hire more workers to ramp up production to meet this demand -- even though he expects that sales in the United States and Europe may be sluggish.
Lawrence Creatura, manager of the Federated Clover Small Value fund in Rochester, N.Y., added that some companies may pleasantly surprise investors.
"It seems, despite commonly held fears about Europe, that business in the U.S. is gradually getting better. It's not great but it's better. That is true of virtually any industry you look at with a couple of small exceptions," he said.
Creatura said that investors may actually be too pessimistic. "Investors were badly wounded in 2008 and it will take a while for those memories to fade," he said. "The recent experience with Europe has been uncomfortable and that it makes it easier for investors to envision tougher outcomes for the second half of the year."
I hope that he's right. But investors would probably feel a lot more comfortable if analysts started to lower their forecasts instead of keeping them in tact. There is a sense that earnings estimates may be too high given the stark economic reality.
Butters pointed out that the current earnings target for the S&P 500 for 2011 is higher than actual earnings in 2006, the last full year before the subprime mortgage meltdown.
So it doesn't seem at all as if a possible slowdown in global economic growth is factored into the market at all. And that's more than a little worrisome.
- The opinions expressed in this commentary are solely those of Paul R. La Monica.