New home sales plummet to record low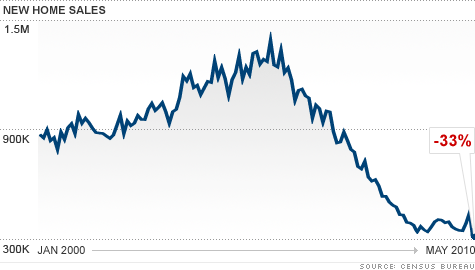 NEW YORK (CNNMoney.com) -- New home sales plummeted to a record low in May, the first month following the expiration of the homebuyer tax credit. This snapped a two-month streak of gains.
New home sales declined 32.7% to a seasonally adjusted annual rate of 300,000 last month, down from an downwardly revised 446,000 in April, the Commerce Department reported Wednesday. Sales year-over-year fell 18.3%.
This is the slowest sales pace since the Commerce Department began tracking data in 1963. The prior record was set in September 1981, when new homes sold at an annual rate of 338,000.
"We expected a slowdown, but the extent of this decline was a surprise," said Anika Khan, an economist at Wells Fargo. The figure was even worse than her relatively pessimistic forecast of an annual rate of 380,000 in May.
A consensus of economists surveyed by Briefing.com had expected May sales to slide to an annual rate of 430,000.
"Clearly, the lack of a tax credit had a lot to do with it, and it's going to be a bit of a bumpy road ahead as we get a few more months of payback," Khan said.
Home sales had surged in March and April as homebuyers scrambled to sign contracts ahead of the April 30 deadline for the tax credit. First-time homebuyers qualified for a tax credit up to $8,000, while repeat buyers could get as much as a $6,500 break.
Homebuyers have until June 30 to close deals, but the Senate may vote to push that deadline back to Sept. 30.
Khan expects home sales to remain depressed through the third quarter as home construction continues to contract and lending standards remain tight. But, she said, sales should pick up slightly in the fourth quarter.
Although, she added, we are still years away from a normal level of new home sales -- an annual rate between 800,000 and 900,000.
"A full housing recovery is contingent on employment," Khan said. "When we see the unemployment rate abate, and some growth in salaries and incomes, we'll get some sustainable momentum in the housing market."
A real estate industry report released earlier this week showed that existing home sales, based closed sales rather than signed contracts, slipped slightly last month but remained elevated.
Price and inventory: The government report showed that the median price of new homes sold in May was $200,900, down less than 1% from April but a 9.6% drop from May 2009.
An estimated 213,000 new homes were for sale at the end of May, the lowest inventory level in more than 40 years.
Still, at the current sales pace, the government expects it will take 8.5 months to sell through that inventory, up from 5.8 months in April. Six months of inventory is considered normal market conditions.
Sales by region: Sales fell the most in the West, where they decreased by more than 50%; the Northwest saw sales declined by about a third. Sales in the South and Midwest declined by about 25%.