Verizon adds new Droid to line of iPhone rivals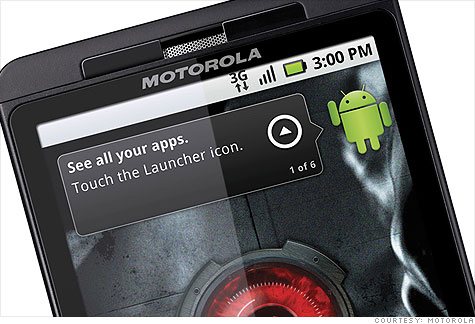 NEW YORK (CNNMoney.com) -- Verizon Wireless unveiled the latest addition to its a successful line of Droid smart phones on Wednesday afternoon -- preempting Apple's eagerly anticipated iPhone 4 launch by a day.
The new Motorola (MOT, Fortune 500) Droid X, available exclusively on Verizon's network, will have all the bells and whistles: a 4.3-inch display, HDMI output, 720p high-definition video capture, an 8 megapixel camera, a 1 GHz processor and three microphones to help with noise cancellation and call quality.
The phone can also store an enormous stash of videos, photos and music. It comes with 8 gigabytes of installed memory plus an SD card featuring 16 GB of expandable memory, which can be upgraded to 40 GB. All of that comes in a phone less than half an inch thick.
The Droid X is scheduled for July 15 release, and will cost $200 with a new two-year contract. Following in AT&T's footsteps, Verizon (VZ, Fortune 500) said any customer with a contract expiring in 2010 is eligible for an early upgrade. (Want all the details? Check Fortune.com's live blog of the Droid launch.)
The Droid X is one of the first phones to take advantage of a cool new feature in Google's latest Android operating system update: The phone can become a Wi-Fi hotspot for up to five devices. That add-on will cost customers an extra $20 a month for up to 2 GB of data transmission. Each additional megabyte will cost 5 cents.
At the Droid X launch event in New York, Google Chief Executive Eric Schmidt praised the phone for its advanced capabilities -- and touted Verizon's network for allowing users to get the full experience of the Android OS.
"This is not a toy or an app engine," Schmidt said. In a not-so-subtle dig at AT&T, he added: "In today's mobile world ... you need an incredibly fast and scalable network, and it's got to have a real operating system."
IPhone-killing strategy
The new Droid is part of Verizon's attempt to outflank chief rival AT&T (T, Fortune 500) -- the iPhone's exclusive carrier -- by taking advantage of the surging popularity of Google's (GOOG, Fortune 500) Android mobile operating system to create a distinctive smart phone brand within Verizon.
Android is a hot wave to ride. Phones running Google's mobile OS outsold iPhones in the first quarter, according to research group NPD. In the first three months of the year, 28% of U.S. smart phones sales were of Android phones, compared to 21% for Apple (AAPL, Fortune 500). BlackBerry maker Research in Motion (RIMM) continued to hold the lead, with 36% of overall sales.
Though the Android OS may not resonate with most mainstream consumers, Verizon's $100 million Droid marketing campaign has helped establish its Droids as serious iPhone competitors.
"What Verizon has tried to do is create a 'Droid' brand of their own and establish that brand as a stand-in for the iPhone," said Charles Golvin, an analyst with Forrester Research. "That has been pretty successful so far."
The Droid X will be Verizon's fourth "Droid"-branded, Android-based smart phone and the second new Droid in two months. Verizon's previous flagship device, the HTC Droid Incredible, went on sale in April.
The strategy is paying off: Verizon sold out of Droid Incredibles almost immediately, and the company said it won't have any in stock until mid-July.
Meanwhile the original, 7-month old Motorola Droid outpaced the first-generation iPhone's sales through its first 74 days in stores, according to research group Flurry. The Motorola Droid continues selling so well that its manufacturer recently said it is facing shortages in its supply chain.
What Droid does
Droids offer all of the smart phone basics, including a large multi-touch screen, an app store, a video camera and, of course, the ability to place calls. Like Android phones on other networks, Droids offer free GPS navigation, removable batteries, true multitasking, speech recognition software and frequent software updates.
But unlike other Android phones, which vary wildly in quality and price, Verizon has limited its Droid branding to phones that are truly top of the line. Not all make the cut: Verizon offers two non-"Droid" Android phones (the LG Ally and Motorola Devour).
And in a very anti-Apple approach, each Droid has a different set of features. Want a keyboard? Get a Motorola Droid. Want to watch video? Get a Droid X. Want a great camera? Try the HTC Droid Incredible. Like something a bit smaller? Get an HTC Droid Eris.
"Clearly, Verizon has been making great strides to bring only top-notch handsets into its Droid portfolio," said Andy Castonguay, director of mobile and access devices research at Yankee Group. "Verizon's strategy to have a variety of devices centered around one core experience makes sense."
Still, there's a risk to Verizon's approach. Each Droid runs a different user interface, some use a slightly different version of the Android operating system, and each has different apps available to it. And with new Droids launching at such a rapid pace, it can be difficult for customers to keep track.
With the iPhone, on the other hand, users know they'll have one update a year and a full, standardized universe of apps.
"It will take some time to see whether this is too much or too fast for Verizon," Golvin said. "But so far, Verizon has had success in saying Droid is the flagship brand that doesn't force you to use one set of features."