The housing head fake, part 362
NEW YORK (CNNMoney.com) -- The housing market took a big step back in the month of May. There's no disputing that.
New home sales plunged 33% from April. Existing home sales dropped 2% and were worse than expected. May housing starts numbers reported last week were equally dismal: Starts for single-family homes plummeted 17%.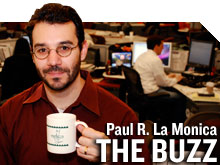 With that in mind, it should be no surprise that home builder Lennar (LEN) said Thursday morning that its orders for new homes fell 10% in its latest quarter -- and that the entire decline took place in May.
Strangely enough, investors briefly did their best Mötley Crüe impersonation Thursday morning and sang a happy tune called Home Sweet Home Builders.
Lennar's stock rose 3% shortly after the open Thursday morning but later pulled back. Thursday's early gain followed a 4% rise Wednesday.
Shares of Pulte Homes (PHM), Toll Brothers (TOL), Beazer Homes (BZH) and Hovnanian Enterprises (HOV) also rallied Thursday morning after finishing Wednesday higher. But they pulled back too.
Why did they move up at first? The rationalization appears to be this: May stunk, but it was no surprise since it was the first month after the homebuyer tax credit expired.
So as perverse as it may sound, some bullish investors may have been buying on the notion that housing finally can't get any worse.
"This is probably about as bad as it gets -- we are far closer to the bottom," said John Norris, managing director of wealth management with Oakworth Capital Bank in Birmingham, Ala. "Housing numbers should stabilize going forward."
Continued low rates could also spark a rebound in activity: The average 30-year fixed mortgage rate just hit an all-time low of 4.69%, according to Freddie Mac.
Another sign of hope: Walt Disney (DIS, Fortune 500) unveiled plans Wednesday to start building and selling luxury homes in Florida near its theme park. That's not a venture to begin if Disney thought the housing market was doomed.
That's the bull case for housing. But this seems like faulty logic to many.
Some argue that the May home sales figures are a sign that the housing market is about to enter a double dip after several relatively strong months.
Others point out that the housing market never really recovered in the first place. The "rebound" may have been artificially supported by the government, with the tax credit and the Federal Reserve keeping interest rates low.
With unemployment still high and foreclosures remaining a big problem, the May numbers may be just another leg down in a long, painful collapse.
"People are in absolute denial about housing," said Keith Springer, president of Capital Financial Advisory Services, in Sacramento, Calif. "The plain truth is there are not enough people in the country to absorb all the homes out there. We had a blip from the tax credit but that was temporary."
Springer also pointed out that the recent "strength" in the stocks needs to be put into context. The SPDR S&P Homebuilders (XHB) exchange-traded fund, which includes builders, home furnishing retailers and other housing-related stocks, is down nearly 20% since the beginning of May, a bigger drop than the broader market.
And even though low mortgage rates may stay low, that might not ignite a rush of buying as much as it will refinancing.
That's because buyers are more worried about home prices than mortgage rates.
And the reason rates are this low is partly due to the fears about the global economy, which are sending investors in a mad dash to buy U.S. Treasurys. In other words, low mortgage rates may be another symptom of economic weakness not a cure for the housing market's woes.
Even Norris conceded that he doesn't think home sales or prices are going to take off dramatically. He said that the best investors and buyers can hope for is slow, steady improvement in coming months.
And that pretty much sounds like what people can expect for the stock market and entire economy. We might have to start referring to what's going on as the barbecue recovery: It's going to be low and slow.
A seven nation army couldn't hold me back. Apple's stock is flat today despite all the iPhone 4 hype. So that inspired me to head over to Twitter and challenge my followers (inching closer to 950) to name the band responsible for this song lyric.
"Hey little apple blossom. What seems to be the problem?"
The band is The White Stripes. Mina Kimes, a colleague at CNNMoney sister publication Fortune, was the first to respond correctly. So she deserves a big shout-out.
But I figured it would be best to also praise the first person not on the Time Warner payroll (to the best of my knowledge at least) to correctly cite garage rock heroes Jack and Meg. That would be Jim Gobetz, aka @aiki14. Nice work, Jim!
- The opinions expressed in this commentary are solely those of Paul R. La Monica.