IPhone problems? It's an annual tradition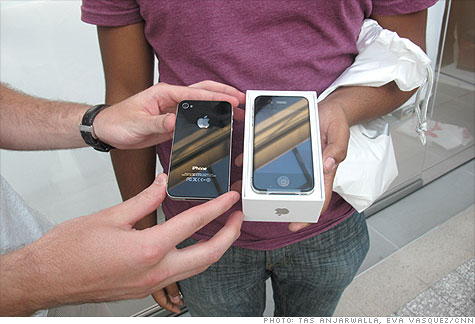 NEW YORK (CNNMoney.com) -- It's iPhone launch day -- a tech holiday! -- and the annual traditions are running full steam: lines at Apple stores are epic, and the blogs already buzzing with gripes about the brand-new phones.
This time around, the two main complaints revolve around reception problems and sporadic accounts of yellow spots and bars marring iPhone 4 screens. Gizmodo is hosting a photo gallery of user-submitted images showing translucent yellow splotches that appear underneath the iPhone screen's glass.
But as quickly as the bug reports popped up, so did the rebuttals. Some customers said the yellow magically faded away as the day wore on and their new phones got more use. A popular explanation of the phenomenon is that the yellowness is from the glue used to attach the screen to the iPhone's body. Since Apple manufactured and shipped the phones so quickly, some bloggers say, the glue had not dried yet on some phones.
Apple (AAPL, Fortune 500) did not immediately respond to a request for comment on the reports. No mainstream media reviews of the iPhone mentioned any yellow dots or bars.
But one issue that did come up in an influential review was matched by blogosphere grumbling on Thursday. In his review in the Wall Street Journal this week, Walt Mossberg said that his iPhone 4 had trouble finding a cell network in places where his iPhone 3GS had no problems.
In some cases, his phone showed no bars of reception but could still make calls, which Apple chalked up to a software bug.
IPhone 4 users reported similar issues on blogs, saying that the phone's signal appeared to go in and out when they placed their hands on the steel antenna surrounding the phone.
"IPhone 4 problems" was among the top 10 searches on Google Thursday, as customers, bloggers and tech enthusiasts weighed in with issues and explanations.
It's certainly not the first time that Apple has faced complaints after a new product ships.
About one in a thousand first-generation iPod Nanos shipped with cracked or broken screens, according to Apple. And iPhone 3G users quickly complained about a lack of service in 2008, which AT&T (T, Fortune 500) eventually said was the result of a network overload. That's a problem it is still working through.