Cleveland razed! Rust Belt remaking foreclosures into forests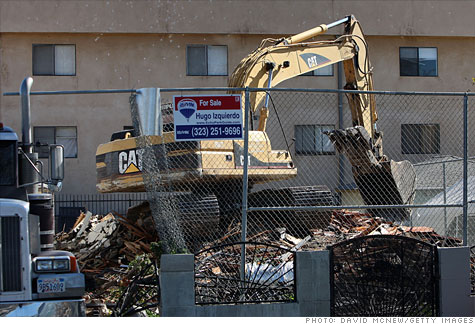 FORTUNE -- In a housing market still struggling to regain strength, Fannie Mae (FNM, Fortune 500) and Freddie Mac (FRE, Fortune 500) have quickly become two of the nation's biggest landlords. By the end of March, the troubled mortgage finance companies had taken over 163,828 foreclosed houses. That's more homes than there are in Seattle.
In hopes of recouping some losses, Fannie and Freddie are working to sell the houses. In a healthy housing market, that makes sense. But they wouldn't be in this predicament if that were the case. We're still grappling with the same housing problems: too much supply, not enough demand.
How can the nation downsize with grace?
A growing chorus believes turning foreclosed homes into wide-open spaces -- neighborhood parks, community gardens, or even urban forests -- is the way to do it. It's not exactly a far-fetched idea. Fortune has learned The Trust for Public Land, a national nonprofit land conservation organization, is examining Wells Fargo's (WFC, Fortune 500) portfolio of foreclosed homes to buy tracts in order to return the land to a greener state. Record foreclosures and lower land prices has created some unlikely opportunities -- what the organization is calling a "green lining" to the real-estate crash.
"We've always worked with banks to acquire properties, but obviously there's a lot more pieces and much more opportunities these days," said Will Rogers, president of The Trust for Public Land, which help governments put together financing to acquire lands through grants, public dollars and private fundraising.
For decades American cities such as Cleveland, Detroit, Youngstown, and St. Louis have responded to everything from white flight to population decline by converting abandoned lots or properties into plots for public uses. To be sure, not every structure has been demolished and turned into greener spaces. Some in good shape have been transformed into affordable housing, but creating open space has become a viable option for cities trying to shrink prosperously.
Conservation of land has its roots in the presidency of Theodore Roosevelt. In keeping with the spirit of our late President, known as the Father of Conservation and a crusader for saving wild places, the idea of turning unneeded homes into green space is worth exploring. Roosevelt helped create 150 national forests, five national parks, and 18 national monuments, among other conservation projects. Altogether, he was instrumental in the conservation of about 230 million acres.
"Roosevelt is famous for being a conservationist -- he was onto this idea that the great outdoors built strong Americans," says Armando Carbonell of the Lincoln Institute of Land Policy, a Cambridge, Mass.-based policy research organization. "The amount of failure of real estate projects is so great that there are probably a lot of opportunities out there."
In 2008 the federal government seized Fannie and Freddie because they were deeply troubled by bad loans. The companies hold titles to the foreclosed properties, and have hired real estate and marketing agencies to help sell their inventory. When a property is sold, the companies take payment and give the new homeowners title.
As of the end of March, Freddie had taken over 53,831 homes, mostly concentrated in states with some of the nation's highest foreclosure rates: California, Florida, Arizona, Michigan, Illinois, and Georgia. Listings for homes in California ranged from $19,000 to $59,000; those in Florida, $5,000 to $24,000; in Illinois, $2,000 to $36,000; in Arizona, $15,500 to $37,500; in Michigan, $100 to $19,900; and in Georgia, $4,000 to $31,000.
The weak housing market has kept Freddie from selling at prices that would help it recoup all its losses. On average, the recovery rate has been approximately 60%, said Brad German, a spokesman for Freddie.
Clearly there are few winners in this nightmarish housing market. No doubt there's a better way: Freddie and Fannie need to be part of the solution. The companies could sell their properties to governments or a land trust, which could then turn them into neighborhood parks or urban gardens or some form of open space. Not every piece will work.
Location, location, location
The Trust for Public Land prefers homes it is looking at to sit in a neighborhood that does not already have a park or green space. However, if the foreclosed parcel is located adjacent to an existing park, it could be added into it. Finding a willing government, church, school or organization to maintain the open space is also important.
Efforts to turn foreclosures into green space could prove economically beneficial, helping reduce the nation's oversupply of homes. In turn, this could support and possibly raise home prices.
In Ohio's Cuyahoga County, home to the rust-belt city of Cleveland, momentum has increased to ease the area's rampant foreclosures through a greener approach. In April the county of about 1.3 million launched a land bank, an independent government corporation with the power to acquire tax-foreclosed properties or buy up discounted structures from banks or loan services.
The agency is a variation on a handful of land banks that have formed nationwide -- the first of which emerged in the 1970s in St. Louis, where residents' flocking to the suburbs left an inventory of empty homes and buildings.
Unlike land banks of the past, Cuyahoga's agency appears to have teeth. Not only can the land bank pick up vacant property, but it can also acquire homes, buildings, and other structures. The county apparently has received an outpouring of requests from a public that envisions greenhouses, parks, trails, and community gardens, in hopes of redefining neighborhoods left hollow by subprime lending and mortgage foreclosures.
But not every parcel or property should be demolished and turned into wide-open spaces. Affordable housing is still in demand, and many communities dealing with record foreclosures would probably benefit more from attracting new industries and more businesses. Local and state governments dealing with budget shortfalls would probably rather see new homes or a new office park on their tax rolls, leading to increased government revenues from property taxes. State governments face one of the worst budget seasons in years. Between now and 2012, states must still close budget gaps totaling about $127 billion, according to a survey by the National Association of State Budget Officers.
If market demand for homes just isn't there and the location is right, communities could find even more value in greener spaces.
"It suddenly becomes an asset for the community rather than a liability," says Frank Alexander, a professor at Emory University Law School who has helped form land banks in Atlanta and Michigan's Genesee County.
The green space effect
In 2007, Philadelphia saw an $18.1 million windfall in property taxes because property values rose in certain residential areas near parks, according to a 2008 study by The Trust for Public Land. What's more, parks attract tourists. Philadelphia collected $5.2 million worth of sales tax from tourism spending by out-of-towners who visited the city primarily for its parks, according to the report.
If anything, open spaces might just add to life's simple pleasures. A separate survey by The Trust for Public Land has found that the economic downturn has occasioned more visitors to free parks and playgrounds, while admissions to paid events, like professional sports, have gone down. In a 2009 poll, 38% of adults with children under 6 years old said they've made greater use of parks.
Freddie and Fannie might benefit from Roosevelt's passion for parks and conservation, and land banks' eagerness to buy. But it will take a lot of playgrounds to make us whole: so far, the government bailout of Freddie and Fannie has reportedly cost taxpayers $145.9 billion. And the tab grows with each foreclosure. And at the end of the day, the Congressional Budget Office estimates that it could cost as much as $389 billion. If only we knew what Teddy would say and do about all these foreclosures.