The "brilliance" of Harvey Weinstein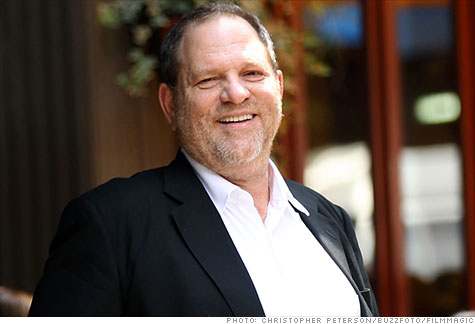 FORTUNE -- Did you hear the great news about The Weinstein Company? The Wall Street Journal reported this week that the cash-strapped indie studio had reached an agreement with its lenders that positions it for greatness. Again.
Or at least that's the way Harvey Weinstein and his cohort are explaining it. "This restructuring...puts the company in a good position to achieve its goals," said ever-present Hollywood lawyer Bert Fields. Weinstein himself went further. "This deal works brilliantly for all parties involved," he told the Journal. "It makes [the company] debt-free, library rich, working capital insured, no interest payments on an ongoing basis and gives it the ability to take its rightful place as one of the strongest independent [studios] in the industry."
We wouldn't go that far. In fact, we might even venture the opposite opinion for many of the "parties involved." But that's just us. First, though, a little history and a synopsis of Wednesday's deal.
When The Weinstein Company was formed in 2005, it was capitalized with $500 million in debt and $700 million in equity. Apparently, Harvey Weinstein and his brother Bob have burned through all of that cash with little to show for it save the success of Quentin Tarantino's Inglorious Basterds. And now they're restructuring. Which means that the original equity is worthless.
Point of issue #1: The equity investors probably don't see this deal as working out "brilliantly." You see, they're done. Wiped out.
And what about that $500 million loan? After some cost-saving moves of late, it had apparently been reduced to $450 million. But they still can't pay it. And neither can the people who said they had The Weinstein Company's back, bond insurer Ambac (ABK).
In a decision akin to insuring subprime loans in Detroit, Ambac figured the Weinsteins were good for their money. That kind of judgment will end up making you bankrupt. Oops! It did! Ambac is nearly bankrupt, and a court allowed it to buy its way out of the deal for $115 million on Wednesday.
The Weinstein Company's lenders, led by Goldman Sachs (GS, Fortune 500), will take that money, thereby reducing the outstanding debt to $335 million. And to give the studio even more breathing room, they have agreed to eliminate all interest payments on that debt.
Point of issue #2: No lender considers the elimination of interest payments a "brilliant" development.
What do the lenders get in exchange? More than 200 of the company's films -- including The Road and Halloween II -- which are projected to generate $233 million over the next 4 1/2 years, as well as a "small portion" of the company's future films.
Point of issue #3: Collateral that will generate $233 million in exchange for a bad loan of $335 million -- no brilliance there, at least from the lender's perspective. And only a "small' portion of future films? This joint is in foreclosure, folks. Why not most of those future films?
Remarkably, it seems as if the wizards at Goldman have met their match in the Weinstein brothers, who basically bent the investment bank and their other lenders over the proverbial barrel. It's one of those deals, you see: lighten the debt load and hope upon hope for another Pulp Fiction, or watch the brothers turn and walk away from the debt in its entirety.
Point of issue #4: Getting schooled by film industry sharps probably doesn't feel too brilliant to Goldman Sachs.
"Give these guys enough at-bats and they'll get it right," Goldman banker Joe Ravitch said of the Weinsteins to Fortune in 2007. "No one works harder than these guys."
He may be right. But working at what? It would certainly seem that Weinstein had his eye off the ball while he was engaged in ultimately failed negotiations with Disney (DIS, Fortune 500) to use The Weinstein Company to distribute and market Miramax's 700-film library.
Harvey Weinstein can go on as long as he wants about how good this deal is -- calls to The Weinstein Company were not returned -- but Deadline Hollywood founder (and Tinseltown scourge) Nikki Finke isn't having any of it. "People do business with The Weinstein Co at their peril," she wrote. "Almost everybody who trusts The Weinstein Co lives to regret it."
Except, clearly, Harvey Weinstein. He thinks it's been brilliant doing business with himself.