Lighting up Africa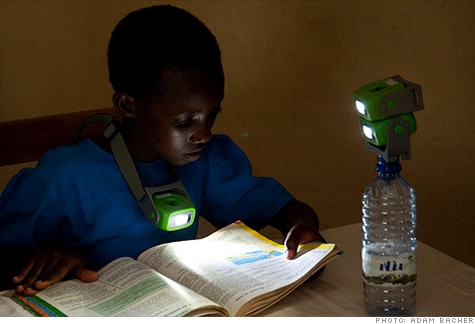 FORTUNE -- In the Bugesera region of Rwanda -- a land known for its sorghum farming and also its poverty -- an experiment in capitalism is taking place. For lighting, most villagers here use kerosene lamps, which cause air pollution and lung disease and are a severe fire hazard. Annonciata Mukandekwe, a 50-year-old basket weaver, has a better idea. She spends an hour a day pedaling a small generator that charges LED lights. In her first two weeks in business, this widow sold 140 of the $6.58 lamps to her fellow villagers. Mukandekwe earns $3.78 a day in charging fees -- more than triple the daily income in rural Rwanda. Her customers get safe, clean lighting at one-tenth the cost of kerosene.
Sameer Hajee, the co-founder and CEO of London-based startup Nuru Energy, is the man who helped Mukandekwe set up her business. Hajee, who has an Insead MBA, got his inspiration while working at the U.N. and at Freeplay Energy, a successful London business that sells crank-up radios around the world. At the time, Freeplay's foundation was piloting a microbusiness model to provide foot-powered generators to rural Africa. Most new technology used in the poorest parts of the world is donated. Depending on the kindness of strangers makes adoption slow and erratic. The question, says Hajee, is, "How do we get technology into the hands of as many of the people who need it the most?" The answer: Create sustainable businesses run by locals.
Hajee left Freeplay and eventually founded Nuru, an 11-employee for-profit, in 2009 with $200,000 in seed money from the World Bank Lighting Africa initiative. Nuru arranges microloans for entrepreneurs to buy the lamps, plus an additional $200 to buy Nuru's bike-pedal electric charger. It takes the business owner about six months of pedaling to earn enough cash to pay back the loan with interest. After that it's mostly all profit. Nuru, which manufactures the patent-pending LED lights and pedal chargers in China, also provides its entrepreneurs with training in accounting. So far this year Nuru, which is still in the ramp-up stage and has yet to post a profit, has set up 70 businesses in Rwanda, providing lighting to the equivalent of 7,000 families.
Hajee does not want to stop at lighting. He sees Africans using his pedal generators to make a living charging cellphones, radios, and more. Says he: "Our vision is that eventually we'll have hundreds of thousands running recharging stations. We are trying to build an entrepreneurial platform for rural Africa."
The idea works. All that seems to be holding back even more rapid adoption of the technology is fresh capital for those microloans.