Measure your social networking Klout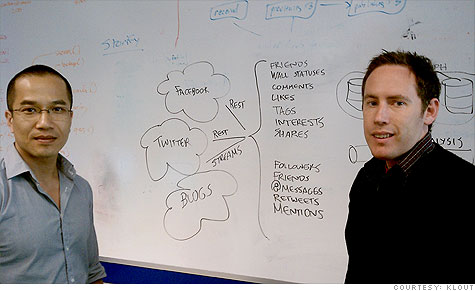 NEW YORK (CNNMoney.com) -- You may have hundreds of followers on Twitter, but how much "Klout" do you have?
Plug your Twitter name into Klout.com to find out -- in numerical, ranked form. The San Francisco site is among the social media startups vying to become the standard for measuring users' online influence.
It got an extra blast of attention this week by partnering with Virgin America, which is offering a handpicked group of Klout-picked "influencers" a free flight from San Francisco or Los Angeles to Virgin America's newest destination, Toronto.
"We've always tried to find interesting ways to engage with guests over social media," Virgin America spokeswoman Abby Lunardini says. "Klout seems like such an interesting idea to see how you can help spread the world online."
Those who accept the offer aren't required to tweet, blog, or otherwise publicize the experience -- though Virgin, of course, hopes that they will.
It's the latest in a series of branding campaigns that Klout -- and its investors -- aim to turn into a new kind of marketing business. For users that accept product offers, Klout only asks for disclosure of the freebie. The company also lays down ground rules: "We say, 'Here's the product, do whatever you want. Say you love it, say you hate it; we just want to make it available to you,'" says Klout founder Joe Fernandez.
The idea for Klout came to Fernandez after a painful surgery left his jaw wired shut for three months.
"During that time all I could do was tweet and update my Facebook status," he says. "With all these conversations going on, I thought it'd be amazing if we could measure who had the most impact."
Klout crunches the numbers on a user's influence by measuring some two dozen variables, including the number of times their comments are retweeted, the size of their Twitter audience, and the influence of those followers. Klout boils that data down to one number, on a 0-to-100 scale.
Along with a rankable number, users get a Klout classification describing their style. President Barack Obama is a Klout "Celebrity": "People hang on your every word, and share your content like no other," his Klout profile raves. "You can't get any more influential than this."
Except you can. Obama's Klout score of 90 puts him in the elite, but he's out-Klouted by social networking news site Mashable, which pulls a 97.
Those high scores bring more than just bragging rights. Companies like Starbucks (SBUX, Fortune 500) and Cover Girl have partnered with Klout to offer freebies to users who have pull in markets they want to target.
Klout is still experimenting with its business model, but it's had success charging companies for bulk access to its data and brokering communications between marketers and social-media mavens. It hopes to expand beyond Twitter to bigger platforms like Facebook.
"These influencers are like celebrities, and we're their agents, in a sense," Fernandez says.
Klout went live last year at South By Southwest, and in April it picked up a funding round of $1.5 million. Angel investor Shervin Pishevar is optimistic about the eight-person company's prospects.
"It's building an algorithm that's people ranked, rather than page ranked," he says. "If you're a company and you have a product, you want to know what Klout knows."