Amazon's not-so-kind Kindle price cut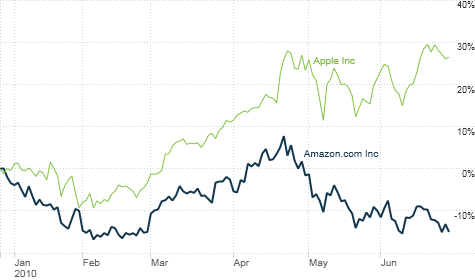 NEW YORK (CNNMoney.com) -- Price wars may be great news for consumers but they are the worst enemy of investors. Just ask any shareholder of an airline.
So does Amazon.com risk becoming the airlines of the tech industry? Last week, Amazon.com cut the price of its popular Kindle e-reader just hours after rival Barnes & Noble slashed the cost of its less popular Nook.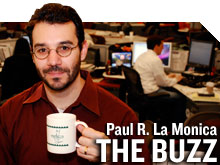 Investors aren't too pleased. The stock is down nearly 8% since the Kindle cut, and Amazon.com (AMZN, Fortune 500) fell as much as 3% Monday morning after Susquehanna Financial Group analyst Marianne Wolk cut her rating on the stock to "neutral."
Wolk cited concerns about profit margins. She estimated that at its previous price of $259, the Kindle's margins were about 15% to 20%. At its new price of $189, she thinks Amazon.com may wind up only breaking even on each sale.
Still, investors may be overreacting.
Breaking even on the Kindle might be fine as long as people buy e-books from Amazon.com. The analogies to razors and razor blades and printers and ink cartridges do have some validity.
Amazon.com has defied skeptics before with strategic moves that hurt profits in the short-run but wound up being savvy long-term decisions because they helped instill customer loyalty.
The most notable example was Amazon.com's decision in 2005 to launch Amazon Prime, a program that allows customers to get free two-day shipping for an annual fee.
Steve Weinstein, an analyst with Pacific Crest Securities, said investors don't have to worry about the Kindle price cut.
"This was a smart and predictable move. We had been expecting price cuts and there should be more going forward," he said. "This is normal for consumer electronics products when you go mass market."
The problem with Amazon.com having to cut prices so quickly is that it isn't merely competing with Barnes and Noble (BKS, Fortune 500) (and the even less popular Kobo from Borders Group (BGP), which essentially cut prices last week by announcing it would give buyers a $20 gift card.)
Amazon.com also has to contend with Apple (AAPL, Fortune 500) and its iPad, a device that allows people to do a lot more than just read books, magazines and newspapers. Since Apple first unveiled the iPad in late January, Amazon.com's stock has essentially been flat while Apple's shares have gained nearly 30%.
So in some respects, the Kindle cut may seem more like an act of desperation.
Apple has helped start a veritable tablet craze and more devices like the iPad are on the way, such as Google (GOOG, Fortune 500)-powered Android tablets for Motorola (MOT, Fortune 500) and Dell (DELL, Fortune 500).
For this reason, Wolk added in her report that she did not rule out the possibility of Amazon.com taking further moves to defend the market share of the Kindle -- such as increased advertising campaigns or revenue sharing with new distribution partners. That could hurt profits even more.
Not everyone agrees that Apple will crush the Kindle. Sandeep Aggarwal, an analyst with Caris & Co., argues that not everyone who wants to read a book electronically will rush to do so on the iPad. For some, that the Kindle does just one thing is a selling point, not a negative.
"Kindle buyers are buying Kindle primarily because they want to read books digitally anytime, anywhere, with free 3G connection, no backlight or glossy screen," he wrote.
There's also the fact that the iPad, at $499, is far more expensive than the Kindle. So some analysts think Amazon.com may be better off further cutting the Kindle price further.
By doing so, Amazon.com can prove itself to more casual readers (i.e. those who aren't die-hard Apple cultists who would probably buy a vial of Steve Jobs' sweat for $499).
"The Kindle can still be a very profitable opportunity for Amazon as long as they remain ahead of Apple," said Frederick Moran, an analyst with The Benchmark Company. "In order to stay the leader the Kindle price should be as competitive as possible."
In addition, Aggarwal pointed out that Amazon.com also stands to benefit from iPad mania since there is a Kindle app for the iPad that could lead to increased e-book revenue for Amazon.com.
With all this in mind, several analysts said Amazon.com may actually now be a pretty decent bargain. The stock, trading at more than 30 times 2011 earnings estimates, isn't cheap but it does seem reasonable when you consider that analysts expect earnings growth of nearly 35% next year.
Moran said that these estimates don't appear to be outlandish either, saying that most forecasts already factor in the likelihood of not just increased competition but also the impact of the weakening euro and slowdown in Europe. So unless the U.S. economy collapses, Amazon.com is sitting pretty.
"Amazon's stock is stalled for a number of reasons but the shares are already appropriately reflecting all the concerns," said Moran. "Amazon.com will most likely power forward as long as the economy doesn't double dip."
- The opinions expressed in this commentary are solely those of Paul R. La Monica.