LeBron to the Knicks? Wall Street says no.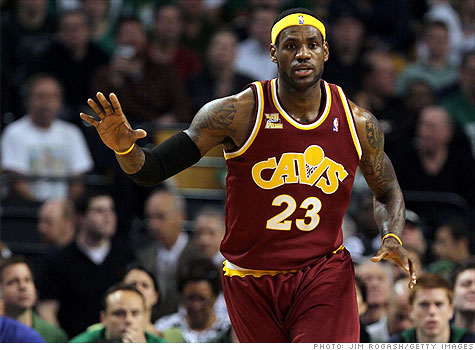 NEW YORK (CNNMoney.com) -- LeBron James is a fabulously wealthy basketball player who's about to become even more fabulously wealthy.
But who, besides Nike (NKE, Fortune 500) of course, will be signing his paychecks in the not-so-distant future? Despite conventional wisdom, I don't think it's going to be the New York Knicks.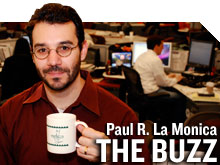 Yes, I realize that this is CNNMoney.com and not our sister publication SI.com.
Still, unless you have been living under a rock, you probably know that James, the star player of the Cleveland Cavaliers, is about to become a free agent. And there is an investment angle here if you bear with me.
Since Cleveland was upset in the second round of the playoffs in mid-May, there has been increased speculation that James - let's just cut the formalities and refer to him as LeBron for the rest of this column - would leave the Cavs to come play for the Knicks.
Even though the Knicks have been a dismal franchise - to put it mildly - for nearly a decade, the conventional wisdom is that LeBron might be tempted to be its savior. Playing in the media capital of the world could also boost his endorsing muscle - if that's humanly possible.
Plus, the Knicks have cleared up enough space under the NBA's salary cap so that they will likely be able to sign James and another marquee free agent, such as Toronto's Chris Bosh or Atlanta's Joe Johnson. In other words, LeBron and a friend could make what's now a woeful team into an immediate contender.
This all makes logical sense. And as a Knicks fan, I'd be ecstatic if King James brought his dunking, passing skills and pre-game chalk toss ritual to the Big Apple.
But here's the thing. Madison Square Garden (MSG), the owner of the Knicks is a publicly traded company - and the stock has been the investing equivalent of an air ball for the past few months.
Shares of MSG, which was spun off from cable company Cablevision (CVC, Fortune 500) in January, have fallen more than 10% since Cleveland lost in the playoffs.
That leads me to think that traders are betting with their head and not their heart. They are willing to accept something that some fans and sports writers don't want to admit: LeBron probably isn't coming to New York.
David Joyce, a media analyst with Miller Tabak & Co. who follows MSG, said the lack of a big jump in the share price is a sign that investors don't believe the LeBron to NY hype.
"People have been assuming that LeBron will join the Knicks for several years and clearly the Knicks have made moves to get under the cap. But over the past few weeks it looks like investors seem to think he'll stay in Cleveland," Joyce said.
I agree. Complicating matters for MSG investors is the fact that it's not a two-horse race.
The Chicago Bulls, Miami Heat and even the New Jersey Nets - who now have a Russian billionaire bankrolling the team, rapper and LeBron pal Jay-Z as a minority owner, and the promise of a move to Brooklyn in 2012 - are also bidding for LeBron's services.
LeBron and other free agents can start negotiating with teams on July 1 but cannot sign until July 8. So there is still time for MSG stock to, in the words of former Knicks star and current TV analyst Walt "Clyde" Frazier, do some "dishing and swishing" before LeBron makes his decision.
Make no mistake. LeBron as a Knick would be a huge plus for MSG shareholders. The company, which also owns the New York Rangers hockey team, MSG cable networks and other sports and entertainment properties, has struggled primarily because of the lack of success of its two key teams.
Adding LeBron would solve part of the problem by making the Knicks worth watching again.
"Signing LeBron would be a very big deal for MSG. It would add enormously to cash flow, increase attendance, merchandise sales and TV ratings," said Christopher Marangi, an analyst with Gabelli & Co., a research firm affilliated with money manager GAMCO Investors, which owns a stake in MSG. "It would easily be in the hundreds of millions of dollars in economic value."
But this is the most speculative of bets. Marangi said that even if LeBron does join the Knicks, his maximum impact would only be realized if the team does extremely well - and that's far from certain.
"What the Knicks really need to do is make the playoffs. That would improve earnings," Marangi said.
Joyce also cautioned that the signing of LeBron or other free agents to a sizeable, long-term deal could also hurt profit margins. That hit could be offset if the team does well enough to enable MSG to raise ticket prices. But again, that's a big if.
So anyone thinking of buying MSG stock on LeBron hopes should consider themselves forewarned. In fact, shares of sports companies have typically not been slam dunks.
Baseball's Cleveland Indians, hockey's Florida Panthers and the Boston Celtics - the Knicks' top rival - have all at one time had publicly traded stocks.
And while the stock certificates for those companies may have looked cool in a "man cave" hanging next to posters of players, the returns for those shares didn't exactly make any of them worthy of an investing Hall of Fame.
Yankee Doodle Dandy: The Buzz will be back on July 6. Happy 234th, America! Enjoy the weekend, Buzz readers.
- The opinions expressed in this commentary are solely those of Paul R. La Monica.