Intel scourge to retire from AMD
FORTUNE -- In an end to an era, the top lawyer and longest-serving officer at semiconductor maker AMD, Tom McCoy, 59, announced his retirement yesterday, effective December 31. McCoy joined AMD as its general counsel in 1995 and in 2003 became its executive vice president, legal, corporate, and public affairs.
McCoy is probably best known for suing, or spurring regulators to sue, AMD's arch rival Intel. Since 1993, when he became AMD's outside counsel at O'Melveny & Myers, he has been involved in more than a dozen such matters. In an August 2006 Fortune article about McCoy and his crusade, entitled Intel's worst nightmare, McCoy characterized Intel as a "very mean and infinitely rich company."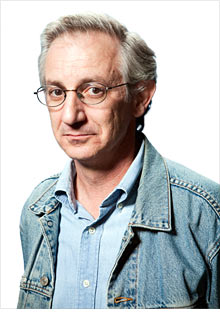 McCoy tells Fortune he plans to move to his family to Washington, D.C. in August, where he plans to do legal consulting for corporations "in the realm of strategy, crisis management, and antitrust."
Under a succession plan already in place, McCoy's roles will now be assumed by senior vice president and general counsel Harry Wolin, 48, and vice president of public affairs, Allyson Peerman, 53.
For almost 30 years, AMD (AMD, Fortune 500) has been a perpetual underdog to mighty Intel (INTC, Fortune 500), fighting for share in the market for x86 CPU's, the brains of PCs. Intel has nearly always dominated, maintaining a 75% to 80% share.
Earlier this decade, McCoy was the architect of an antitrust assault against Intel, including a federal antitrust suit AMD filed in Delaware in 2005 and a bevy of investigations launched by competition authorities around the globe, all egged on by McCoy. All the cases alleged that Intel paid computer makers to exclude AMD chips from all or high percentages of their product lines. (Intel denies ever having paid for exclusivity.)
McCoy never slew his Goliath, but he drew blood. Last November Intel settled AMD's Delaware suit, agreeing to pay $1.25 billion in cash and other consideration. That deal came six months after the European Commission, completing an inquiry instigated by McCoy, hit Intel with a $1.46 billion fine for competition law transgressions, its largest fine ever. (Intel has appealed.)
Intel now also appears close to settling related unfair competition charges that the U.S. Federal Trade Commission brought against it in December. In yet other matters with McCoy's fingerprints on them, Intel was fined about $18.6 million by Korean regulators in 2008 (now on appeal); it consented to injunctive relief sought by Japanese regulators in 2005; and it is still fighting state and federal antitrust charges filed against it in November by New York State Attorney General Andrew Cuomo.
While acknowledging that it's too early to judge the impact of his "antitrust wars," McCoy says he believes they are creating "more innovation in the marketplace and balance in the industry, and I'm pretty proud of that accomplishment."
In the mergers-and-acquisitions arena, McCoy led last year's spinoff of its fabrication facilities into GlobalFoundries, a joint venture between AMD and an Abu Dhabi-owned investment company, and oversaw AMD's $5.4 billion acquisition of graphics chipmaker ATI Technologies in 2006.
AMD also announced yesterday that it has awarded McCoy a $4 million lump-sum performance bonus for his work on the AMD v. Intel case.
An Intel spokesman declined comment on McCoy's retirement.