Count on this: Hiring to be weak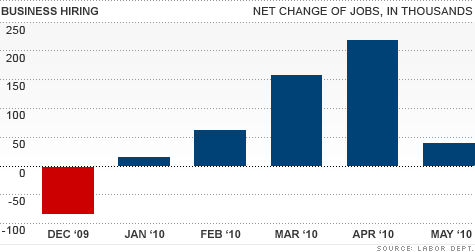 NEW YORK (CNNMoney.com) -- A couple of months ago, a recovery in the U.S. labor market seemed to be at hand. That hope has proved as fleeting as a job with the Census Bureau.
The surge in hiring of census workers in May was responsible for virtually all the 431,000 jobs created that month. Private sector employers, who had added 218,000 jobs in April, added only 41,000 workers in May -- and that was mainly from temporary jobs.
The Census Bureau has already started cutting the more than 500,000 temporary workers it brought on to do its count of the U.S. population. But as those jobs come to an end, economists believe it could be months before the private sector is hiring in droves again as it did earlier this year.
"Unfortunately, it looks like it's going to be a slow, painful grinding improvement in hiring," said Carl Riccadonna, senior U.S. economist for Deutsche Bank.
Many economists forecast that the private sector will add 100,000 jobs in June, far weaker than either March or April. Many say it could be late 2010 or even early 2011 before businesses will once again be adding 200,000 jobs in a month. The latest report on private sector hiring from payroll processor ADP was also worse than expected.
The weak private sector job growth, coupled with the loss of more than 200,000 census jobs in June, has economists surveyed by Briefing.com forecasting an overall loss of about 100,000 jobs for June. The government will release those figures Friday. The unemployment rate is expected to rise to 9.8% from 9.7% in May.
Business hiring in May was likely limited by the surge in census hiring, as job seekers took better paying census jobs, leaving lower-paying jobs at some companies unfilled. Private sector employment has suffered a decline in every month with large census hiring dating back to 1960.
In years with strong labor markets, such as early 2000, the hit to private sector jobs was short-lived. But in the years when the labor market was weak, such as 1980, hiring didn't bounce back when the census work was done. That's worrying economists.
"There is a lot of slack in the labor market, so the census effect on the private sector is probably not as strong as it was in 2000," said Mark Zandi, chief economist of Moody's Analytics.
The signs of growing economic weakness also isn't helping. New homes under construction hit a record low in May, as did new home sales. The end of a tax credit for home buyers raised fears of a new downturn in housing.
Consumer spending is proving to be weaker than hoped, as retail sales fell for the first time in eight months in May. Exports, an area of growth last year, are expected to slow due a rise in the value of the dollar and economic problems in Europe.
The Gulf oil spill is causing job losses across numerous industries in that region as well.
Budget shortfalls at state and local governments are also likely to hurt the economy.
"Axes are definitely falling," said Sean Snaith, economics professor at the University of Central Florida. "Whether states are cutting jobs or raising taxes to close those budget gaps, neither is good for the economy."
Charles Biderman, CEO of TrimTabs Investment Research, estimates state and local governments will cut between 1 million to 2 million jobs by the end of next year. So the combination of a still nervous private sector and cash-strapped governments is not good news for people looking for work.
"Where are we supposed to get the hiring from?" he said. "This not what you'd expect to see in the early stages of a robust recovery, and it looks like the economy is weakening from here."