A sales manager unleashes her green thumb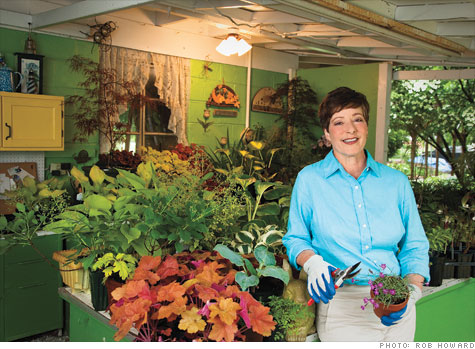 (Money Magazine) -- As a regional sales manager for a subsidiary of 3M, Cynthia Miller was feeling restless and ready for something new. But with four kids, she says she couldn't consider "cutting free from corporate life" -- or her six-figure salary -- until her children were off on their own.
By 2002, they all were. So when the avid gardener heard that an Indianapolis garden store and nursery she frequented was up for sale, she quickly arranged a meeting with the elderly owners, who accepted her offer of $150,000.
Using her sales skills, she's increased the revenue of Soules Garden from $40,000 in 2002 to $175,000 in 2009. Even with plans to earn $50,000 this year and take 20% annual raises thereafter, she's had to make sacrifices. But, Miller says, "I wanted to be my own person, and now I am."
How she does it
1. By staying under budget.
While Miller borrowed from her dad for initial living expenses, she's always operated the business out of cash flow. She relies on a line-item budget and a detailed profit-and-loss statement.
2. By anticipating surprises.
Early on, a truck knocked out her phone line, costing her tens of thousands in sales. Since then, she's kept $15,000 in an emergency fund to float the business if something goes wrong.
3. By living simply.
Miller and her husband still drive an 11-year-old car, and they sold their three-story home to move to a tiny place on the nursery grounds. The proceeds cushioned their sizable nest egg.