From tech bubbles to soap bubbles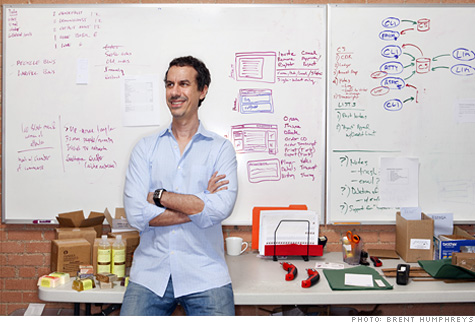 FORTUNE -- After Salah Boukadoum sold his tech company, Atrana Solutions, for a cool eight figures -- something most entrepreneurs only fantasize about -- he faced a mini existential crisis: What next?
The answer wasn't obvious for Boukadoum, 42, who had followed a less than traditional career path. At age 9 the Oklahoma native, whose father immigrated from Algeria, began playing the piano. By 14 he was performing classical music before live audiences and soon was touring internationally -- a thrilling but "lonely existence," he says.
In 1994, at 27, he shifted to business, founding Vision Solutions, which made software for point-of-sale systems. Within 10 years the company, renamed Atrana Solutions, had $10 million in sales. Alliance Data (ADS) acquired it in 2005, and Boukadoum stayed on for about five months, but felt frustrated. "Entrepreneurs think radically differently from large corporations, especially in terms of pace," says Boukadoum, whose first name, Salah, means "success" in Arabic.
Boukadoum had long been intrigued by microfinance. Since the recipients of microloans are primarily women, he decided to build a company that focused on female customers. The result, launched in 2009: Dallas-based Soap Hope, which sells all-natural body-care products online.
Soap Hope is a decidedly for-profit venture, but with a philanthropic twist. At the end of the year the company invests all its profits in nonprofits with an antipoverty mission, such as Chiapas International and the Plan Fund. Yet its investment is just a loan: The nonprofit recipient must pay back all the funds within 12 months. "All we're doing is delaying our [profits] by one year," says Boukadoum. Since any new loans are made with the next year's profits, he says, "there's actually a rolling investment."
Boukadoum dubbed his idea Good Returns and hopes it will morph into its own nonprofit, providing a "Good Housekeeping"-type certification for participating companies and offering insurance to guarantee the loans. In the meantime Soap Hope should bring in $750,000 this year and turn a profit. Although Boukadoum sees the business as mostly a way to prove that the Good Returns concept works, he also hopes to raise $1 billion for antipoverty microloan initiatives."I feel a tremendous amount of urgency to demonstrate that this model works," he says. "I am much more aware now of how little time each of us has to make our maximum impact."
Starting over (again):
Don't hesitate "Start a new business immediately," says Boukadoum, "even prior to selling the old business if possible." For people with a lot of creative energy, it is easy to lose momentum if you have too much downtime.
Build a team first "My instinct was to scale back, find a new model, and then build a new team," says Boukadoum. "That was incorrect: I should have hired a small, flexible team. I would have found my new model much more quickly."