Disappearing perk: Employee stock options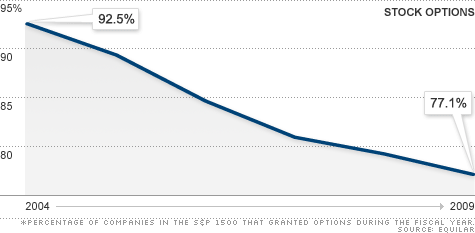 NEW YORK (CNNMoney.com) -- The time-honored employee stock option has seen better days.
Long a popular tool for compensating employees at burgeoning start-ups and top executives at multi-national corporations, the practice of granting options to workers has increasingly fallen out of favor.
Last year, a little more than three-quarters of the companies in the S&P 1500, which tracks small- and mid-cap stocks as well as the conventional S&P 500 index, relied upon stock options to pay their CEOs. Compare that to five years prior, when that figure stood at nearly 93%.
Goldman Sachs (GS, Fortune 500) and Wells Fargo (WFC, Fortune 500), for example, were just two of several large banks that eliminated option awards altogether for their respective CEOs - Lloyd Blankfein and John Stumpf.
Those changes however, haven't been just limited to the embattled financial industry. The value of options awarded to top executives at other brand-name companies including Intel (INTC, Fortune 500) and U.S. Steel (X, Fortune 500) fell during fiscal year 2009. At planemaker Boeing (BA, Fortune 500), the decline was much more pronounced, with option awards for its CEO W. James McNerney falling by almost half.
"It is not the ideal vehicle to use any longer," said Rob Patterson, managing director of compensation and benefits at the oil refinery firm Tesoro (TSO, Fortune 500), which has moved away from the practice in recent years.
Stock options are the right to buy a certain number of shares of an employer's stock at a stated price over a certain period of time.
Compensation experts note however, that the recent shift away from options by companies, while notable, has been underway for some time.
A number of companies first started to migrate away from the practice after a new set of corporate accounting changes were introduced earlier this decade. Firms that could once dole out options at no cost, suddenly found they had to pay up for those rewards.
The practice also got a black eye in 2006 when it came to light that a number of publicly-traded firms including Apple (AAPL, Fortune 500) were found altering the grant date of their options in order to boost their value.
Other firms shied away under pressure from corporate governance advocates and shareholder activists. Critics have cited the dilutive effect options have on existing shareholders as well as how poorly they reflect employee performance, particularly during times of market volatility.
That has certainly been the case following the wild swings in the stock market over the last year-and-a-half.
Many options that were granted to workers at the start of 2008, for example, became virtually worthless after the market tanked the following fall. Conversely, awards that were made in early 2009 when the stock market, and shares of many companies, were at multi-year lows, now represent a major windfall for many executives.
"What we saw were some tremendous values built up in options that had been granted," said Joe Sorrentino, managing director at the executive compensation consulting firm Steven Hall & Partners.
Those potential paydays, of course, has been tempered by the recent market selloff. Since the beginning of May, the S&P 500 is off just over 13%.
With the popularity of stock options now fading in some corners of corporate America, firms have looked to alternatives to reward employees.
Drugmaker Abbott Labs (ABT, Fortune 500), for example, cut options awarded to some of its executives dramatically last year, choosing instead to raise base salaries and dole out more company stock.
At the San Antonio, Texas-based Tesoro, the company has tried to incentivize employees in other ways, using time-vested restricted stock and rewarding employees with cash for hitting certain performance targets. Patterson added that the company may abandon the use of options altogether at some point.
Long-time students of corporate compensation trends suggest that stock options, while fading in popularity, will continue to serve a purpose.
Tim Bartl, senior vice president and general counsel at the Washington, D.C.-based Center on Executive Compensation, points out that stock options are still an effective way to retain top-performing executives. At the same time, few other payment mechanisms do a more effective job of aligning the interests of employees and shareholders over the long term - they only make money when investors do.
"At this point, I don't think we will see them go away completely," he said.