Chinese bank may be world's biggest IPO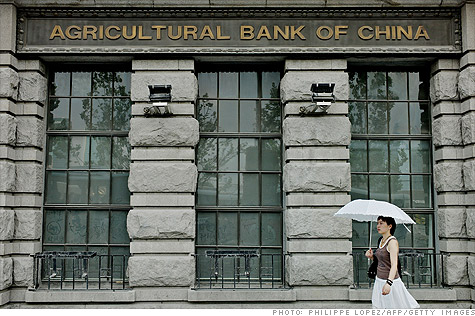 NEW YORK (CNNMoney.com) -- One of China's biggest banks is on track to become the largest IPO in history.
Agricultural Bank of China, a lender which boasts more customers than the entire U.S. population, has raised $19.2 billion from investors, according to an individual familiar with the matter.
The Beijing-based lender, which plans to list its shares on exchanges in both Hong Kong and Shanghai, said it sold 25.4 billion shares in Hong Kong at $0.4107 a piece, totaling $10.43 billion. Its Shanghai stock, which totaled 22.2 billion shares, priced at $0.3955 a share, raising approximately $8.78 billion.
Should the company agree to exercise its option to sell more shares, which is expected, the bank would raise more than $22 billion.
"It will, barring extenuating circumstances, be the world's largest IPO," said Scott Sweet, senior managing partner of the IPO research firm IPO Boutique.
Agricultural Bank's offering would barely edge out fellow lender Industrial and Commercial Bank of China, which currently holds the record for world's largest IPO by raising $21.9 billion when it went public in 2006.
Visa (V, Fortune 500) currently holds the U.S. record after it raised nearly $18 billion in its market debut in 2008. There is some speculation that General Motors could top that once it eventually goes public again.
Despite concerns about brewing real estate troubles in China, expectations have been for Agricultural Bank to make a splash among investors.
Although the bank will not trade on a U.S. exchange, many on Wall Street are keeping a close eye on the IPO to determine whether China's economy and stock market are showing any signs of cooling off.
With nearly 24,000 branches and a customer base of approximately 320 million, Agricultural Bank is poised to grow as both the Chinese banking system and domestic consumers become more sophisticated.
Investors will have to wait to see how the broader market responds to the offering however as there is typically a lag between the time Chinese companies price their shares and the first day of trading.
Shares of the company are expected to begin trading July 15 in Shanghai. Hong Kong shares are set to follow a day later.