5 things to know about energy rebates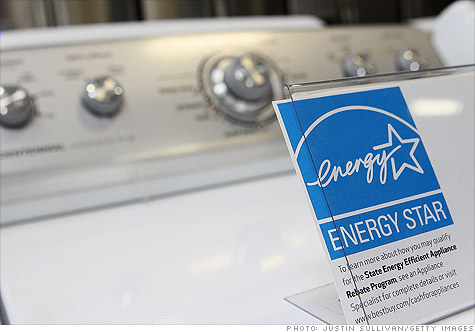 (Money Magazine) -- 1. Federal appliance rebates are going fast ...
The government's Cash for Appliances program, which lets you score rebates for about $50 to $500 swapping energy guzzling appliances for more efficient models, has gotten lots of attention.
But don't count your greenbacks just yet. The incentives, which are administered through the states, are typically doled out on a first-come, first-served basis, and in many locales the money is already gone. Florida's program, for example, closed just 36 hours after it opened. But some states, such as Michigan, still had plenty of cash in their coffers at the end of May, and other initiatives didn't launch until June. To check the status of the program in your state, go to energysavers.gov/financial.
2. ... But most states offer their own programs too
Even if you can no longer qualify for a Cash for Appliances rebate, you may still be able to get cash back from the more than 600 programs run by utilities and over 100 state programs that offer incentives for boosting your home's energy efficiency, says Justin Barnes, policy analyst with the North Carolina Solar Center. In Oregon, for example, you can get a $75 rebate on an Energy Star washer, and $30 for recycling an old fridge. See dsireusa.org for info on your area.
3. And you may have two more chances to get federal funds
Through the end of 2010, you can claim a $1,500 federal tax credit for up to 30% of the cost of many energy-related improvements.
There's also the so-called Cash for Caulkers bill, which was passed by the House in May and could soon become law. It would give homeowners hefty rebates on a variety of energy saving projects.
Even if you take the tax credit this year, you may still qualify for a Cash for Caulkers rebate, says Ronnie Kweller, a spokesperson for the Alliance to Save Energy, a nonprofit group.
4. Before you grab a rebate, do the math
Getting cash back might help you justify the purchase of, say, that snazzy new stainless-steel fridge you've been eyeing. But other projects may give you greater savings. "If your home has bad insulation, a super efficient heating system won't do much," says Mark Cannella, partner with Pro Energy Consultants, an energy auditing firm.
Not sure where your money is best spent? A comprehensive home energy audit, which will pinpoint your leaks, runs about $400. But some states or utilities conduct basic audits for free or will reimburse some of that cost.
5. Don't forget that small projects can still pay big
There are plenty of ways to save energy without spending a lot. Every degree you go up or down on your thermostat will knock 2% off your annual heating and cooling costs; replacing your five most frequently used bulbs with compact fluorescents can lop $70 a year off your energy bill, says Lizzie Rubado, a senior project manager with Energy Trust of Oregon.
Finally, ditching that old fridge you've relegated to the garage for storing extra drinks will save about $200 or more a year. You may find you can justify an appliance upgrade after all -- rebate or not.