BP may pay for wasted oil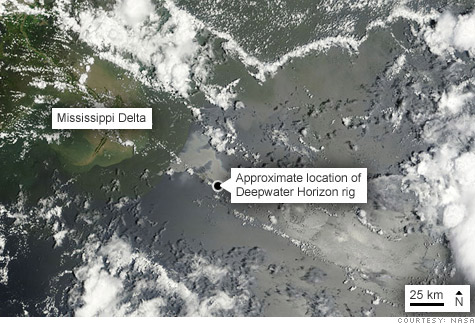 NEW YORK (CNNMoney.com) -- Adding to BP's problems in the Gulf, the company may have to pay the U.S. government royalties on all the uncollected oil currently spewing into the water.
BP (BP) is currently paying royalties on the oil it's collecting and selling from its leaking well, with the proceeds from the sale being donated to a wildlife fund.
BP can only capture and sell about 16,000 barrels of oil a day, according to the latest company numbers. Yet government estimates say that each day up to 60,000 barrels could be leaking into the Gulf.
A BP spokesman did not know if the company would have to pay royalties on the uncollected oil. A spokeswoman for the Interior Department, which is in charge of the royalties, said the agency is "investigating" the issue, and "will make sure BP pays every cent of any royalties they owe."
The money at stake isn't huge.
Based on the oil BP said it's collected so far, current oil prices, and the 18.75% royalty rate on the well, BP has paid about $8 million to the government. Even if the company was charged for the full 60,000 barrels per day, it would only owe another $50 million -- a pittance compared to the $20 billion compensation fund it's already agreed to.
Whether or not the company pays royalties for wasted oil may be more a matter of principle.
Independent industry experts are also unsure if BP will have to pay royalties on the escaping crude.
"Under normal [government] leases, they'd have to pay on all the oil that comes out of a well, even in a blowout," said Dick Watt, a Houston-based oil and gas attorney.
But Watt said BP may be eligible for an exemption -- in the late 1990s, the government waived royalty payments for deepwater wells in an effort to encourage new production. He didn't know if the blown well was covered under the exemption but with BP already paying royalties on the oil it's collecting, Watt said it's doubtful they'll be exempted.
Others thought the company could get out of the payments if it isn't making money on it.
"Since a royalty is technically defined as a revenue tax, I hardly see how BP could be forced to pay a tax on something for which it is receiving no revenue," said Ken Medlock, a fellow in energy studies at Rice University's Baker Institute for Public Policy.
Looks like one more fight for the lawyers.