Why the gold rush may not be over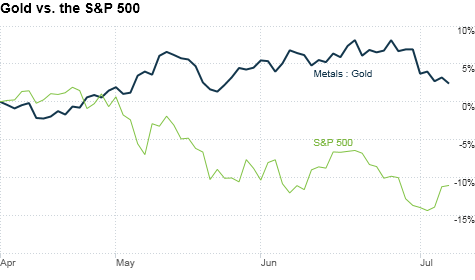 NEW YORK (CNNMoney.com) -- Less than three weeks after gold surged to record highs, the precious metal has scaled back about 5% and is hovering once again around $1,200 an ounce.
On Thursday morning, gold for August delivery -- the most actively traded contract -- was down $7.50, or 0.63%, at $1,191.40 an ounce.
But the two major factors behind the precious metal's recent highs around $1,250 -- Europe's debt woes and volatile stock markets -- are still major concerns. So what gives?
For the first clue, look no further than July 1 -- the day gold fell nearly $40.
Good news for Europe, bad for gold
Facing the expiration of about $554 billion in debt last Thursday, the European Central Bank announced it would assist 78 banks in refinancing their loans, a move that would essentially roll over a quarter of that debt.
The euro rose after the news, and institutional investors, who just weeks earlier had been betting in favor of gold and against the euro, suddenly rushed to close out their bets and reap profits at gold's still relatively high prices, said Phil Streible, a senior market strategist with futures broker Lind-Waldock.
Traders had previously been taking advantage of the euro's weakness amid growing concerns about Europe's debt crisis. Gold, as a tangible asset, was perceived to be a safer alternative to the paper currency, Streible said. But in light of the ECB's news, that trade may have run its course.
So investors seem temporarily content to take their profits and put their fears about Europe's debt crisis on the back burner, and that's one factor driving gold down. But there's another.
Deflation, not inflation, fears
Disappointing economic data on this side of the Atlantic may also be leading investors to sell gold. On Friday, readings on U.S. manufacturing, housing and jobs all came in worse-than-expected, sending stocks to fresh 2010 lows.
It's a bit curious that gold, a so-called safe haven, has slipped despite some dismal economic reports. But gold is also considered a hedge against inflation -- a trend investors now have little reason to fear.
Michael Cheah, a bond fund manager with SunAmerica, said the most recent economic reports have fed increased fears of deflation, a persistent decline in the prices of assets and consumer goods.
In a deflation scenario, Cheah said investors would be wise to put their money behind a different safe haven: U.S. Treasurys.
That's because Treasurys pay interest regularly, and although the yield may be low, it's still better than taking a loss in stocks or gold should double-dip recession fears come true, Cheah said.
Gold rush not over yet
But with all these factors in mind, analysts still say gold prices could climb higher. Streible forecasts gold to rebound to as high as $1,325 by the end of the year.
Jeffrey Nichols, a senior economic advisor to Rosland Capital, a precious metals firm, has even loftier expectations. He anticipates the metal to rise as high as $1,500 an ounce by year-end -- a prediction he has stuck with for the last several months.
Nichols points out that gold is a very small market when compared to Treasurys or currencies, so it's easily swayed in one direction, especially during weeks of low trading volume.
The recent dip may be entirely the work of institutional investors at big banks and hedge funds who are taking profits during light trading surrounding the July 4 holiday and summer vacations, Nichols said.
And those are quite "possibly the very same people who will come back in the next few weeks and push gold higher again," he added.
Meanwhile, Streible said he thinks concerns about Europe's debt crisis are likely to resurface, pushing the euro down and gold up once again.
Investors will be watching for the results of the ECB's so-called financial "stress tests" of 91 banks, which it plans to release on July 23, as a barometer of the region's economic health.
Cheah also expects gold to rise later in the year because he thinks a double-dip is likely. If that happens, he said, investors probably would eventually lose faith in the U.S. dollar and Treasurys, sending gold once again to record highs, he said.