These little PIIGS went to market
NEW YORK (CNNMoney.com) -- Is the Europe debt crisis over? The financial markets are behaving as if it is. And it's not just giddiness about the all-Europe final in the World Cup.
The euro has jumped nearly 7% since hitting a four-year low of under $1.19 last month. It's now trading at about $1.27.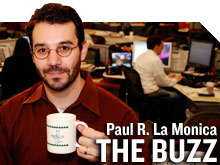 European bank stocks have been surging as well, including those in the so-called PIIGS nations of Portugal, Ireland, Italy, Greece and Spain.
Spain's Banco Santander (STD) and Banco Bilbao Vizcaya Argentaria (BBVA), for example, have each soared about 40% since hitting a 52-week low exactly a month ago.
But is this just a sucker's rally? After all, the results of European bank stress tests are due July 23. That may rekindle fears about the European economy.
Then again, the stress tests may wind up doing for Europe's banks what similar tests did for U.S. banks a year ago: reassure investors that banks weren't ticking liquidity time bombs.
"The whole idea of stress tests is to restore confidence, or else why do it? The tests are likely to be established in a way where a handful of institutions may require new capital, but the majority will not," said Julian Callow, chief European economist with Barclays Capital in London.
European Central Bank president Jean-Claude Trichet further calmed investors' frayed nerves Thursday.
The ECB held interest rates steady and Trichet said that despite an "environment of high uncertainty," the ECB expects further economic growth in Europe in the second half of this year -- albeit at a "moderate and still uneven pace."
With that in mind, the euro may rally further. And that would be welcome news for many large U.S. multinational companies.
Firms ranging from online travel leader Priceline.com (PCLN) and international tobacco giant Philip Morris (PM, Fortune 500) to Dow components McDonald's (MCD, Fortune 500) and 3M (MMM, Fortune 500) had warned that the weak euro would hurt their profits.
Kathy Lien, director of currency research at GFT, a foreign exchange and futures brokerage firm in New York, said she thinks that the euro may climb a little higher from current levels, but probably not much more than $1.28.
She said it's important to note how many people were betting against the euro, and that some of the recent strength could just be related to short-sellers buying to cover their positions.
So the euro may fall again once that process is done. Even so, Lien doesn't expect another plunge, and thinks that the euro could stabilize in a range of about $1.24 to $1.25.
"The euro strength is not a new trend," she said. "But we probably have seen the bottom in the euro. If the results of the stress tests are good and show that banks are healthy, that will only cause concerns about the PIIGS to recede even further."
Other experts aren't so sure though. Austerity measures throughout Europe -- and particularly in the PIIGS nations -- are likely to lead to weaker growth across the continent.
"There is a little bit of stabilization in Europe but it depends on how you look at it. The euro has rebounded and that shows some signs of confidence," said John Praveen, chief investment strategist with Prudential International Investments in Newark, N.J.
"But credit default spreads for Greek, Spanish and Portuguese bonds relative to German bonds are still very elevated. That suggests that we're not out of the woods," he added.
From Seneca to Cuyahoga Falls. A certain Akron-born basketball player is dominating the headlines. And shares of Cincinnati's Fifth Third Bancorp, Cleveland's KeyCorp and Huntington Bancshares of Columbus all surged on Wednesday.
So that got me humming a certain not-so-happy tune about the Buckeye State (not CSNY's "Ohio"). Naturally, I went over to Twitter and asked my loyal followers (almost 1,000!) to identify this song lyric. "A. O. Way to go Ohio."
The winner is John Scott, who appears to be a huge Maryland Terrapins fan. He correctly pointed out that this was from "My City Was Gone," by rock goddess Chrissie Hynde and The Pretenders.
But for all you Cavs fans, I hope you get to sing a cheerier song like "Cleveland Rocks" after the LeBron soap opera finally ends tonight.
- The opinions expressed in this commentary are solely those of Paul R. La Monica. Other than Time Warner, the parent of CNNMoney.com, La Monica does not own positions in any individual stocks.