Twitter's business model: A visionary experiment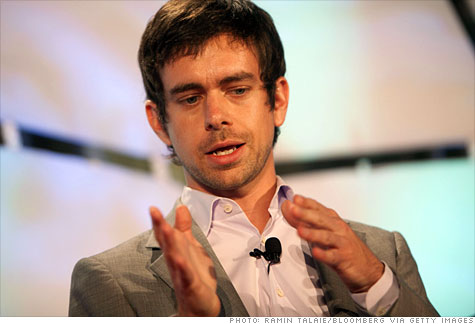 FORTUNE -- In March 2006, Jack Dorsey wrote the first tweet ever: "Just setting up my twttr." Inspired by the pithy status updates in the ambulance and taxicab dispatch software he once programmed, Dorsey translated that software model into a real-time stream where more than 190 million users now relay their thoughts in 140 text characters or less.
By giving a wide demographic an online voice, Twitter has become an influencer in the way information is shared around the world. But while its immediacy, transparency and simplicity offer answers about all things both newsworthy and mundane, one big question about Twitter has gone virtually unanswered: how it plans to turn a profit.
Gradually, the company is offering clues. Earlier this week, Twitter launched @earlybird Exclusive Offers, which provides followers with time-sensitive deals on products and events from sponsors. Conceptually similar to the rush sales offered by sites like Gilt and Groupon, @earlybird is another cog in Twitter's extremely cautious, slow-rolling business model, one that's more focused on making small steps towards revenue in the medium-to-long term without alienating users.
That approach differs from Facebook, Twitter's nearest competitor, which has been criticized for trying to monetize its business at the expense of its users' privacy. The most notorious example, Beacon, was rolled out in November 2007 as part of the company's Facebook Ads system and was touted as a new way for businesses to communicate with users and to "socially distribute information." Its most controversial feature was the initial involuntary dissemination of a user's activities with Facebook sponsors. If you bought a movie ticket off Fandango or posted a Yelp review, that transaction showed up on your friends' Facebook feeds.
Beacon faced an immediate, enormous backlash -- users saw it as a privacy invasion, an issue that hounded the ad service despite multiple revisions. The feature was eventually discontinued late last year.
"It seemed like Facebook looked at their data and looked at what their technology could give other companies," says Melissa Parrish, an interactive analyst at Forrester. "They looked at what they could monetize from the point of view of adding value to new businesses and advertising partners."
Can Twitter out-Facebook Facebook?
Having had the luxury of seeing Facebook fumble its way to ad dollars, Twitter is attempting to place users first as it formulates a revenue model.
Its monetization efforts have been a long time coming. Since 2006, Twitter has relied primarily on investments from backers like Fred Wilson, a VC and principal of Union Square Ventures. In its most recent round of funding, six investors, including T. Rowe Price (TROW), Insight Venture Partners in New York, and Spark Capital in Boston, reportedly pumped $100 million into the company, giving it an estimated $1 billion valuation.
Clearly Twitter isn't wanting for investors. But like all investments, there will come a day when those backers clamor for returns.
Twitter has gotten the hint. Though the company sold the rights to include Twitter posts in search results to Google and Microsoft last December, April's introduction of Promoted Tweets and the roll-out of Promoted Trends marks the official kick-off of its business model -- more than four years after Twitter first launched.
Promoted Trends is simple. On the right side of user's Twitter feed, the traditional top 10 most popular tweeted topics, or "trends," are now joined by an 11th, a time and context-sensitive subject that might rise up the list depending on its popularity. Disney/Pixar's most recent movie, Toy Story 3, was the first such Promoted Trend.
Promoted Tweets are more targeted and are being rolled out in phases. As of now, they deliver sponsored tweets to search results. If you're searching for tweets with the word "coffee," for instance, a Starbucks (SBUX, Fortune 500)Promoted Tweet resembling other posts appears at the top of the list.
"They're ads, but they're actually more like paid Twitter usage," says Parrish. "They look just like any other tweet." According to Parrish, this seamless integration is why we haven't seen significant user backlash.
Twitter COO Dick Costolo joined the company last September to oversee its business strategy. For Costolo, preserving the user-experience was key when developing Promoted Tweets and Trends. Ads can't be obtrusive and they can't violate user privacy.
To that end, Costolo's team actively works sponsors like Nike (NKE, Fortune 500), Virgin America and Bravo TV, so they understand how to tweet. Because if Twitter's extremely vocal users feel an ad is infringing upon their experience, chances are the ensuing backlash will make Facebook's user petitions and boycotts look like small beans.
"One of the things we tell people right off the bat is, look, just because it's 140 characters doesn't mean you should cut and paste your ad words into a promoted tweet and hit the tweet button," says Costolo. "That's not an effective communication. If the companies don't speak in a voice that's authentic, users will pick up on that right away."
Promoted Tweets will roll out in three phases this year:
- Search. Promoted Tweets will show up in Twitter search results. This is happening now.
- Syndication. The Promoted Tweets ad system will be made available to developers and Twitter clients like TweetDeck and HootSuite. Revenue will be split 50/50. According to Costolo, this is just getting off the ground.
- Critical mass. Promoted Tweets will start to appear in users' customized feeds. No hard time frame yet, but expect this to happen by the end of the year.
Costolo says they will decide later this year whether to take the Promoted Tweets to the next level -- paid tweets within users' main feeds. How Twitter users react to that will be anyone's guess.
The company won't know until fourth quarter 2010 just how their new ad model is doing, but Costolo admits user feedback has been positive so far. He's also quick to temper expectations by emphasizing this business model is a test bed. While Twitter is mum on its advertising rates and revenue goals, it will undoubtedly take a lot of tweets to get the company, which now has more than 200 employees, into the black.
But it's a test bed that other social media companies will be watching closely.
"This could be the thing that pushes online advertising over the edge," says Parrish. "If Twitter's business is vastly successful, it could really change the landscape of what advertisers are looking for when they look to target very specific kinds of conversations rather than people."
If and when that happens, Facebook might want to take notes.