China renews Google license, ending standoff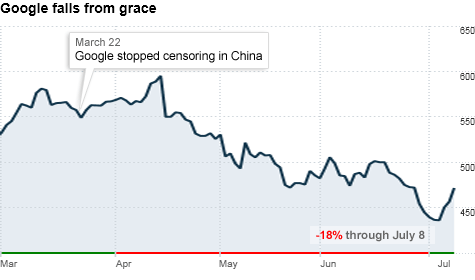 NEW YORK (CNNMoney.com) -- Google said Friday that it has renewed its license with the Chinese government to continue operating in that country, ending a standoff over censorship.
"We are very pleased that the government has renewed our [Internet content provider] license and we look forward to continuing to provide Web search and local products to our users in China," said Google on its blog.
Google did not make any concessions regarding censorship, Tokyo-based Google spokeswoman Jessica Powell said.
"I don't think we gave anything up," she said. "We asked the government to renew our license to make some products that don't require any censorship. We are going to continue to offer uncensored Web search with google.com.hk."
Google's (GOOG, Fortune 500) stock jumped 4% in pre-market trading, while shares of Baidu (BIDU), the lead search engine in China, fell more than 7%.
The search giant had agreed last week to stop its system of automatically redirecting users of the Chinese site, google.cn, to its Hong Kong search engine, Google.com.hk. The move had displeased the Chinese government.
Colin Gillis, analyst and research director for BGC Partners, said that under the new system, Google users on the Chinese mainland will have to deliberately access the uncensored Hong Kong domain, without being automatically sent there.
"Now mainland users have to click a link to the hk site," he said. "It makes the mainland user more of an active participant in accessing unfiltered Google search results."
The renewing of Google's ICP license allows the company to continue operating in the communist country, despite its penchant for censorship of Web material.
Without an ICP license, Google said it "would effectively go dark in China."
Gillis said there was little risk that China wouldn't renew the license, because "China wants to control Google."
The announcement came one day after the U.S. Treasury said that China did not "manipulate" its currency.