Treasurys slip ahead of auction
NEW YORK (CNNMoney.com) -- Treasury prices fell Tuesday, as the government offered $21 billion in 10-year notes and better-than-expected corporate results renewed investor confidence in riskier assets.
What prices are doing: The benchmark 10-year note was down 11/32 to 103-11/32 and its yield fell to 3.11% from 3.02% late Monday. Bond prices and yields move in opposite directions.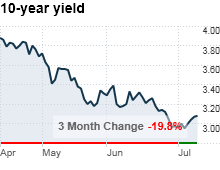 The 2-year note was edged down 1/32 to 99-30/32 with a yield of 0.67%, while the 5-year note lost 6/32 to 99-30/32 and yielded 1.89%.
The 30-year bond fell 21/32 to 104-26/32 with a yield of 4.10%.
What's moving the market: The Treasury Department is auctioning $21 billion in 10-year notes later Tuesday, as part of its $69 billion worth of notes and bonds this week in quarterly refunding.
Meanwhile, demand for the safety of U.S. government debt faded as investors regained confidence after Alcoa's (AA, Fortune 500) better-than-expected earnings report.
The aluminum giant posted second-quarter earnings that beat Wall Street's estimates and gave an upbeat forecast on aluminum demand.
What analysts are saying: "This is the first clean auction period we've had in a few months since investors aren't disturbed by the news as much as they were during the second quarter," said Jim Vogel, head of debt research at FTN Financial.
Vogel said investors are cheapening Treasurys to accommodate for the supply.