Earnings look good. But where are the jobs?
NEW YORK (CNNMoney.com) -- So far, so good when it comes to second quarter earnings reports.
Aluminum giant and Dow component Alcoa and railroad CSX both reported better-than-expected results Monday afternoon. That's helping to lift the markets on Tuesday.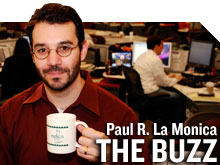 Executives from both Alcoa (AA, Fortune 500) and CSX (CSX, Fortune 500) specifically mentioned improving demand in their reports as well, giving investors further reason to be excited.
But riddle me this, Bat-readers. If companies are so jazzed about the future, why is the economy still mired in a jobless recovery that some fear could lead to a double-dip recession?
Companies are talking a good game about the worst possibly being over for the economy. Deep down though, executives must know that the sovereign debt problems in Europe and continued signs of sluggish consumer spending and weak U.S. housing market could keep a lid on any rebound.
The sad reality is that many companies appear to be getting used to, at best, doing more with their current workforce. In some cases, they are doing more with less.
CSX disclosed Monday that its headcount in the second quarter of 2010 was a scant 174 jobs higher than a year ago -- an increase of less than 1%. Alcoa said that it ended the quarter with approximately 59,000 employees, down from approximately 63,000 in the second quarter of 2009.
"There is an underlying level of uncertainty and the continued pessimism is directly impacting investing decisions by managers of companies," said William Soward, CEO of Adaptive Planning, a Mountain View, Calif.-based software as services firm that specializes on budgeting and planning applications.
Adaptive Planning, in conjunction with the the Business Performance Innovation Network, conducts quarterly surveys of corporate CFOs and controllers. The results of the second-quarter survey hammer home the notion that companies are becoming increasingly conservative.
On the one hand, many are predicting a recovery. More than half of the respondents expected their revenues to increase over the next six months.
But it's as if these executives don't fully believe what they are saying because they are not preparing for a recovery. Only 22% of those surveyed said their staffing levels would increase. Nearly half said they expected no changes to payrolls and almost 30% predicted further job cuts.
"Confidence is not there and this is somewhat sobering," said Soward.
Hopefully, this tone will change as more companies report their results. Several major firms are on tap to report later this week, including Intel (INTC, Fortune 500), Google (GOOG, Fortune 500), General Electric (GE, Fortune 500) and Bank of America (BAC, Fortune 500).
But experts said that investors and consumers have to get used to a slow recovery that won't feel all the great. Simply put, businesses are still dealing with the painful aftershocks of the financial market chaos and recession in 2008.
"The stubbornness of the job recovery underscores the impact of the credit crisis. The recovery is going to take longer than previous ones and the magnitude of a snapback will be lower," said Sam Dedio, head of U.S. equities for Artio Global Investors in New York.
Of course, the job market has always been a so-called lagging indicator. It bounces back after other areas of the economy have already shown signs of recovery.
But with the official national unemployment rate still at a relatively high 9.5% -- and the underemployment rate at a more alarming 16.5% -- it goes without saying that it's going to take a much longer time for the job market than usual to bounce back to more normal levels.
That doesn't mean the economy is destined to slip back into another ugly downturn. It's not a bearish call as much as it is realistic.
"The concern in the U.S. is that the recovery may be losing pace," said Ehiwario Efeyini, global markets strategist at J.P. Morgan Asset Management in New York. "We are seeing evidence of that but we are not seeing evidence of a double-dip recession. We are looking at a subdued rebound but it's a rebound nonetheless."
But the climb will be a tough grind. I hate to beat a dead horse but that's why I've started referring to this environment as the barbecue recovery: low and slow. Unless companies start hiring again in droves soon, the rebound is going to be sluggish.
And America does, if America says it's so. While the market was anxiously awaiting results from Alcoa on Monday, I was racking my brain for pop culture references about aluminum. I found one. And that led me to issue yet another of my silly "Name That Tune" challenges over in the Twitterverse.
I asked followers to identify the song from whence this lyric came. "We build our walls aluminum." Kevin Dixon is the winner. He correctly pointed out that it was "Sons and Daughters" by the Decemberists - a Buzz favorite that rock critics invariably describe as being "hyper-literate."
This is Kevin's third shout-out. Not sure if that means he shares my musical and movie tastes or if he's just fast with "the Google." Either way, I'm declaring him the inaugural member of the Buzz Pop Culture Trivia Hall of Fame. Congrats.
- The opinions expressed in this commentary are solely those of Paul R. La Monica. Other than Time Warner, the parent of CNNMoney.com, La Monica does not own positions in any individual stocks.