Jim Press heads to Nissan as a consultant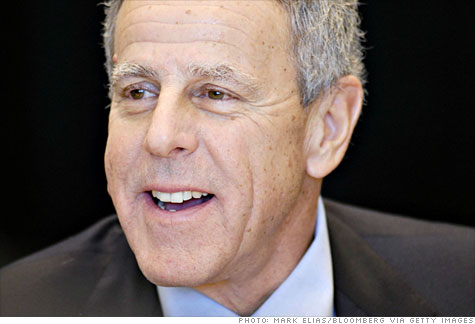 FORTUNE -- No one should be too surprised to see veteran Jim Press return to the auto wars -- or that he chose to do so in the employ of Renault Nissan, the arch-rival of his employer for 37 years, Toyota.
Press's return could presage a reshuffling of the executive deck at the Franco-Japanese company. It could even set the stage for the eventual retirement of CEO Carlos Ghosn.
Word leaked Tuesday that Press, 63, has been working as a consultant to the Renault-Nissan alliance for the past four months. Press, known for his deep knowledge of sales and marketing, has been visiting dealers in the U.S., Europe, and Japan.
On the sidelines for the past year, Press has chafed at his inactivity. Chrysler, his most recent employer, went into bankruptcy in 2009, and Press, the deputy CEO, was unable to work out a new deal with Fiat, Chrysler's new owner.
Press would also like an opportunity to rebuild his reputation. His experience at Chrysler was not a happy one. When he arrived at the company in September 2007, he discovered that its owners had stripped the company of vital functions and were making cost -saving decisions that would seriously damage the company going forward.
Chrysler's cash shortage also forced Press to take some actions that he probably regrets. Chrysler dealers complained that Press urged them to order cars from the company as a patriotic gesture only days before the company went into bankruptcy. Some of those same dealers then saw their franchise agreements terminated, meaning they had to dispose of those recently-ordered cars at fire-sale prices.
Any financial gain Press hoped to reap from Chrysler also evaporated in the bankruptcy, leaving him financially over-extended. He owned a number residences, including a $16 million townhouse in Manhattan. It was reported that he owed nearly $1 million in back taxes to the IRS and had defaulted on a $600,000 bank loan.
Press's long career at Toyota (TM) also ended badly. While running Toyota Motor Sales in California, he led the company to some of its greatest successes and was rewarded with a position on its governing body in Japan.
Then Press was moved to New York to run Toyota's corporate administrative office in the belief that he would be allowed to begin the process of integrating the company's operations in North America under one head.
That process, however, did not move quickly enough to suit Press and he began to feel sidelined. When the Chrysler offer materialized in 2007, he jumped to the American company.
Press will be most valuable to Ghosn as an adviser on how to strengthen Nissan's dealer network, which has never been as strong as Toyota's or Honda's.
It would not be surprising to see him quickly move into a permanent position overseeing the Nissan and Infiniti brands.
Although both car lines are performing well this year, they have suffered from management turnover ever since Nissan moved its U.S. headquarters to Nashville from California in 2006.
Press would provide a soothing presence and allow for the elevation of Carlos Tavares, who currently runs North American operations, into a bigger job.
Tavares, a smart, aggressive operator, has been mentioned as a successor to CEO Ghosn.
Ghosn has showed no interest in retiring. But he has been running Nissan for more than a decade, and his 7,000-mile commute between Tokyo and Paris, headquarters of Renault must be getting old.
During a visit to New York in May, he seemed uncharacteristically out-of-sorts. He has said in the past that he couldn't imagine continuing to work at his current pace for more than a few years.
At the end of 2010, Ghosn will mark an important milestone when he launches the Nissan Leaf, the first mass-produced, all-electric car.
After that, he may decide he has no more worlds to conquer. His historic rescue of Nissan from near bankruptcy means his legacy is secure.
Jim Press, on the other hand, has some scores to settle and would undoubtedly like another chance at running a big-time auto company.