GM guarantees Volt battery for 100,000 miles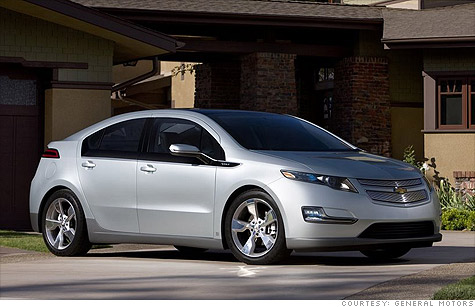 NEW YORK (CNNMoney.com) -- General Motors will guarantee the lithium-ion battery in the Chevrolet Volt for 100,000 miles of driving or eight years, whichever comes first, the automaker announced Wednesday.
The warranty is intended to ease concerns that the Volt's high-tech battery might not last.
Popular hybrid car models currently on the market, including the Toyota Prius and the Ford Escape Hybrid, have similar warrantees on their battery packs.
The Volt, however, uses a different battery chemistry. Also, since the car runs purely on electricity from the battery for up to 40 miles, the Volt's battery is subjected to greater work loads than one in a gas/electric hybrid.
Separately, the automaker also revealed warranty details for the rest of the car.
General Motors already offers a 100,000 mile, 5 year warranty on the engines and transmissions in all of its other models, so this warranty adds a small degree of greater protection for the Volt's battery pack and related parts.
The Volt's gasoline engine, which generates electricity should a driver want to travel beyond 40 miles after charging, will be covered by the standard 5-year, 100,000 mile warranty. Other parts of the car will be covered by GM's standard 3-year, 36,000 mile "bumper-to-bumper" warranty, which matches that of most other major automakers.
The battery warranty also covers the battery's temperature management system, charging system and various electric drive components.
The battery warranty will be transferable to a new owner should a Volt buyer want to sell or give away the car, a GM spokesman said.
Production of the Volt is still on schedule to begin in November, a GM spokesman said Wednesday. GM plans to produce 10,000 Volts, which will be sold in seven U.S. states, through the end of 2011. Production will expand to 30,000 cars in 2012.