KFC's Double Down fails to take off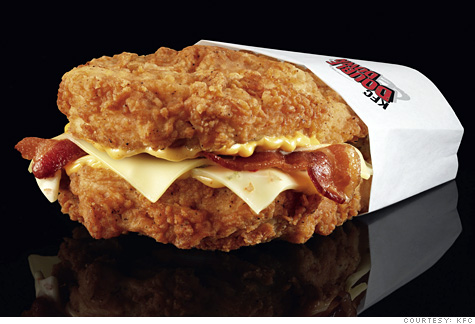 NEW YORK (CNNMoney.com) -- KFC's Double Down, an uber-fried bacon-and-cheese mega-sandwich with chicken instead of bread, has not been a big hit with fast foodies.
The Double Down created a news feeding frenzy when KFC, owned by Yum Brands Inc., launched the sandwich on April 12. The company has sold 10 million of the sandwiches, according to KFC spokesman Rick Maynard. But in the company's earnings call Wednesday, Chief Financial Officer Rich Carucci referred to sales of the sandwich as "immaterial."
The product's distinguishing factor is that it's "bunless," in the words of the company, meaning that bacon and cheese are sandwiched between chicken filets instead of bread. The company said it would donate the "unneeded" buns to food banks.
"It was a talked-about product, there's no doubt about that," said Yum Brands chief executive David Novak, in the earnings call. "It's a big eat."
Consumers are offered two choices for bunless preparation: fried filets, at an impressive 540 calories and 32 grams of fat, or grilled filets, at a comparatively modest 460 calories or 23 grams of fat, according to Yum.
But neither choice appears to have had much appeal for consumers.
Yum Brands (YUM, Fortune 500) did not break out sales figures for specific products in its second-quarter earnings -- the first quarter in which the sandwich was sold. But Mitchell Speiser, analyst for Buckingham Research, said the Double Down contributed to only 5% of KFC's sales. In order for a new product to be a blockbuster it has to be "north of 10%," he said.
"It's not going to move the needle on the overall business," Speiser said, "but it was a product that seemed to get a lot of publicity."
Yum Brands had high hopes for the sandwich. In an April press release describing the product launch, the company said, "The Double Down generated more buzz than any test market item in KFC history."
Speiser said that he's tried the sandwich, which he described as "a little messy."
"I think it plays on the Atkins diet of the bunless burger: protein over carbs," he said.