Williams-Sonoma's secret sauce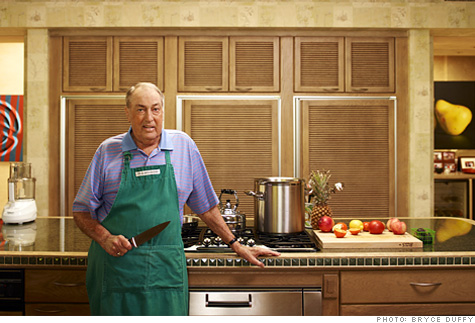 FORTUNE -- Professional managers like Howard Lester aren't supposed to be entrepreneurs. You know the type: the seasoned exec who takes the wheel from the founder when it's time to drive growth, layering on necessary infrastructure. He's the "suit" or the "gray-hair" whose arrival signals an end to the fun, scrappy days before people had to consult policy manuals. At San Francisco's Williams-Sonoma Inc., Lester succeeded founder Chuck Williams, who stayed on as chairman. But even Williams, 94, concedes that the home-furnishings retailer wouldn't have become a $3 billion juggernaut without Lester.
Lester, 74, who capped 32 years at the company when he retired in May, is an entrepreneur in his own right. Not only did he successfully found (and sell) a company before buying Williams-Sonoma (WSM) in 1978, but his stewardship could hardly have been more entrepreneurial: He pushed for growth, took risks, made mistakes. (Laura Alber, CEO since May, is his third successor; two others flamed out.) Lester transformed Williams-Sonoma into a kitchen and home-furnishings empire, with brands like Pottery Barn and West Elm. "He made a lot of bold decisions about growing this business and had real vision about the opportunity to expand a very high-taste concept in a really scaled way," says Matt Fassler, a Goldman Sachs analyst.
Unlike other nonfounder entrepreneurs, Lester focused on making the brand, and not himself, a household name. Williams-Sonoma was begun in 1956, an outgrowth of its founder's passion for French culinary traditions. But Lester's zeal is what has really gotten Williams-Sonoma cooking. His passion? Business. "I had no interest in making quiches," says Lester. Here's a taste of his recipe for growth:
Opportunity doesn't knock, it taps
In 1976, at age 40, Lester's only plans were to putter around. He sold Centurex, a software business he'd founded, and spent six months playing golf. He was poking around for a business to buy when a buddy suggested he look into a struggling cookware retailer and cataloguer that was for sale.
Lester ended up spending weeks "looking at every detail and talking to every employee" at Williams-Sonoma. What he saw was a financially shaky business with $4 million in revenue and $700,000 in debt. "It had no systems, no idea of inventory, and that was something I did know about," he says. Along with a partner, who never assumed an operating role, Lester bought the company for $100,000. His only previous retail experience was as a shopper.
Learn what you don't know
Lester found direction by hitting the road. He went on buying trips to Europe with Williams, and also traveled across the U.S. visiting kitchen stores, noting that "they were run more as a hobby than a business," he says.
Although he sniffed a big opportunity, he didn't act on it right away. Rather than jump into the capital-intensive business of building stores, he focused on growing catalogue sales by hiring a direct-marketing expert. When the company went public in 1983, catalogues represented 75% of revenue -- compared with 50% five years earlier. In turn, the addresses of catalogue customers became a road map for where to locate new outlets.
Lester hired experts to teach him about real estate too. Soon he was cherry-picking locations as fastidiously as a chef lines up knives. When mall owners tried to put the newfangled "kitchen" shop by the food court, he refused. Williams-Sonoma belonged with the luxury brands.
Big bets come from small insights
Williams-Sonoma pushed the boundaries of retailing, offering cooking classes, table-setting demonstrations, and tastings. A company philosophy, "Think like a shopkeeper," originated with Lester, who read every customer letter and comment card. He emphasized not inventory levels or, later, website clicks, but rather such customer metrics as this: "How many did we fail to satisfy yesterday?"
Even as the company was adding roughly five stores every year (starting in 1982), Lester could recite the revenue numbers for each store, as well as the name of its manager. That skill didn't come naturally to his successor, a 15-year veteran of the company who served as president for four years. Alber, 41, devised her own photo flash cards to replicate his total recall.
By 1986, Williams-Sonoma had grown from four shops in California when Lester had bought it eight years earlier, to 27 stores in 14 states with sales of $68 million. That year another San Francisco--based retailer, Gap (GPS, Fortune 500), was seeking a buyer for its troubled 25-store Pottery Barn unit. Lester scooped it up for $6 million, planning to use the prime real estate to expand Williams-Sonoma.
But first he tried an experiment, applying his company's catalogue know-how to the brand by displaying the merchandise as part of a broader lifestyle. The results: double-digit same-store gains. "It was a real eye-opener for us," says Lester.
Not everything has worked. A gardening catalogue the company bought in 1982 languished and was sold in 1999. Hold Everything, which sold storage products, folded in 2006. And the company recently abandoned its high-end Williams-Sonoma Home brand.
Companies don't crush innovation, CEOs do
Alber credits Lester for attracting -- and protecting -- the creative minds the company needed to expand: "A feeling lives within all of us today, which is, What can we build that isn't there yet? How do you push it further?"
Alber should know: In 1997 she was among a group of women who pitched the idea for Pottery Barn Kids. After working on the project nights and weekends, they set up the store format in the garage at headquarters to show Lester. While wary, he let them test it in a catalogue. Pottery Barn Kids now operates 85 stores. And when the notion for Pottery Barn Teen came along six years later? "I didn't argue," says Lester.
It's a difficult time to be in the top spot at almost any retailer. Williams-Sonoma's revenue hit $3.1 billion in fiscal 2009, a 21% drop from its 2007 peak. But the company, which now operates 610 stores in 44 states, is showing some resilience, and the stock price has more than doubled in the past year.
Meanwhile, Lester, who was retired when he bought the business, says he's ready to go through with it this time. After all, what is it they say about the perils of having too many cooks in the kitchen? Lester, undoubtedly, knows.