Goldman settles with SEC for $550 million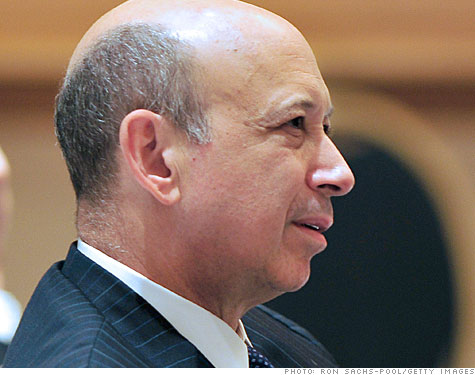 NEW YORK (CNNMoney.com) -- Goldman Sachs paid $550 million to settle charges of defrauding investors in a sale of securities tied to subprime mortgages, the Securities and Exchange Commission said Thursday.
Goldman (GS, Fortune 500) shares jumped almost 8% in after-hours trading on the announcement, as many predicted the company would be forced to pay $1 billion to settle the case.
The settlement amount represents roughly 4% of the $13.4 billion in profits Goldman earned last year. In its first quarter of this year, the bank logged $3.5 billion in profits.
Still, the $550 million was the largest penalty a Wall Street company has ever paid to the SEC. Regulators said $250 million would be returned to affected investors and $300 million would be paid to the U.S. Treasury.
The settlement is subject to approval by a judge. Within 30 days, Goldman must wire money to three parties: $150 million to Deutsche Bank, $100 million to the Royal Bank of Scotland and $300 million to the SEC.
In a statement, the SEC called the settlement "a stark lesson to Wall Street firms that no product is too complex ... to avoid a heavy price if a firm violates the fundamental principles of honest treatment and fair dealing."
Charges filed in April: The SEC filed the fraud charges in April against New York-based Goldman and one of its vice presidents, Fabrice Tourre, for failing to disclose conflicts in a 2007 sale of a so-called collateralized debt obligation dubbed Abacus.
The SEC said Goldman acknowledged it gave investors "incomplete information," though the company neither admitted nor denied the allegations. Goldman will also "reform its business practices" as part of the settlement.
Investors in Abacus lost $1 billion, the SEC said when filing the fraud charges. The commission's complaint alleged that Goldman allowed hedge fund Paulson & Co. to help choose the securities included in the CDO, which is a financial instrument backed by a pool of assets such as loans or bonds.
But Goldman didn't tell investors that Paulson was shorting the CDO, or betting its value would fall.
Goldman shot back in April, saying the charges were "completely unfounded in law and fact" and that the company lost $90 million on the deal.
What Goldman has to change: As part of the settlement, the SEC required Goldman to comply with certain business practices for three years. The company will be required to certify in writing, each year, that it has followed all of the rules.
Goldman must expand the role of its firmwide capital committee in approving the sale of mortgage-backed securities.
In addition, the company's legal or compliance departments must review all written marketing materials. Goldman will have to keep a list of all materials reviewed, including the person who approved them and the date of review. The firm will have to conduct an internal audit of this process at least once a year.
If Goldman is the lead underwriter of a sale of mortgage-backed securities and hires an outside firm to advise, that adviser also will have to review marketing materials.
Within 60 days of hiring an employee who will be involved in mortgage-backed securities sales, that worker will have to take a training class about the laws involved. All employees involved in mortgage securities will be required to take a class each year, and Goldman will need to keep records of that training.
Goldman under fire: Despite Goldman's protests, the charges brought scrutiny and criticism to the company and its chief executive Lloyd Blankfein, who still managed to hold onto his job as chairman in May.
Blankfein and other Goldman executives faced a blistering ten-hour cross-examination from members of a Senate panel in April following the SEC's allegations. Lawmakers skewered current and former executives about Goldman's role in the downturn of the housing market, which started to unravel in 2007.
The SEC lawsuit also publicized e-mails sent by Tourre, the vice president named in the charges, to a girlfriend. The messages, sent in late 2007, revealed both Tourre's cavalier attitude and his doubts about the CDO business.
Tourre, then a 28-year-old trader, referred to himself in one e-mail as "fabulous Fab." He also described himself as "the only potential survivor" of the collapsing subprime-mortgage-backed securities business.
In a press conference later Thursday, an SEC rep said there was "no settlement with Mr. Tourre and we are still pursuing that case."