Greenspan: Let Bush tax cuts expire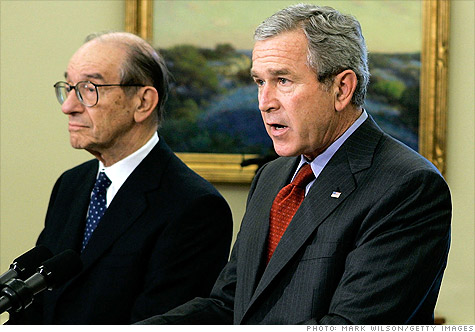 LONDON (CNNMoney.com) -- Former Federal Reserve chief Alan Greenspan believes Congress should let the tax cuts enacted by President George W. Bush expire for all Americans in order to address the widening deficit, according to a TV interview airing Friday.
"They should follow the law and let them lapse," Greenspan told Bloomberg TV's Judy Woodruff.
The 2001 and 2003 tax cuts are due to expire at the end of the year. President Obama had promised to make them permanent for families making less than $250,000. (Read 'Bush tax cuts up in the air')
But faced with growing fiscal challenges, there's debate in Washington about whether the country can afford to permanently extend the tax cuts.
Greenspan, who backed the tax cuts when they were enacted, told Woodruff that allowing the cuts to lapse "probably will" slow growth, but that the risk posed by doing nothing about the deficit is greater.
"I think we misunderstand the momentum of this deficit going forward," the former Fed chairman said in the interview.